It's a Knockout came to Ramsgate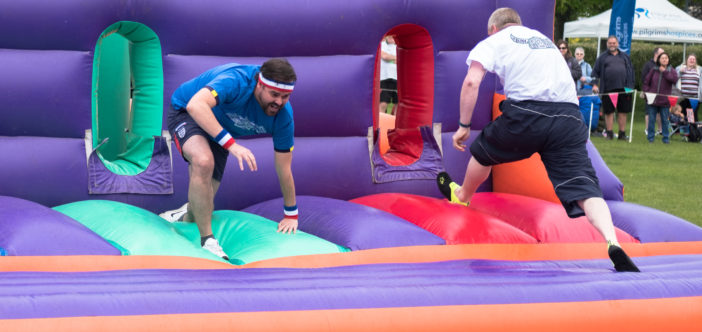 Supporters enjoyed Pilgrims Hospices It's a Knockout event at Government Acre, Ramsgate on Sunday 19 May 2019.
The Thanet hospice fundraising team has run this much-loved event for the past seven years; generating vital funds for hospice care and an opportunity for friends, families and local businesses to take on some crazy antics and compete against each team for that most important winner's medal.
---
Teams took part in the hilarious bouncy obstacle courses, wet and dry challenges as well as fancy dress, each team taking a chance and playing their joker cards to win top points. The laughter was infectious as the teams competed to win while supporting the much-loved local charity.
You are all deserving winners to us, thank you for a wonderful day.

Karen Kenward, Community Fundraising Manager
Teams from around the area took part including SPH Charity Team (Spencer Private Hospitals) from Margate. They supported the event again because each member of the team has known someone who has been supported by Pilgrims Hospices.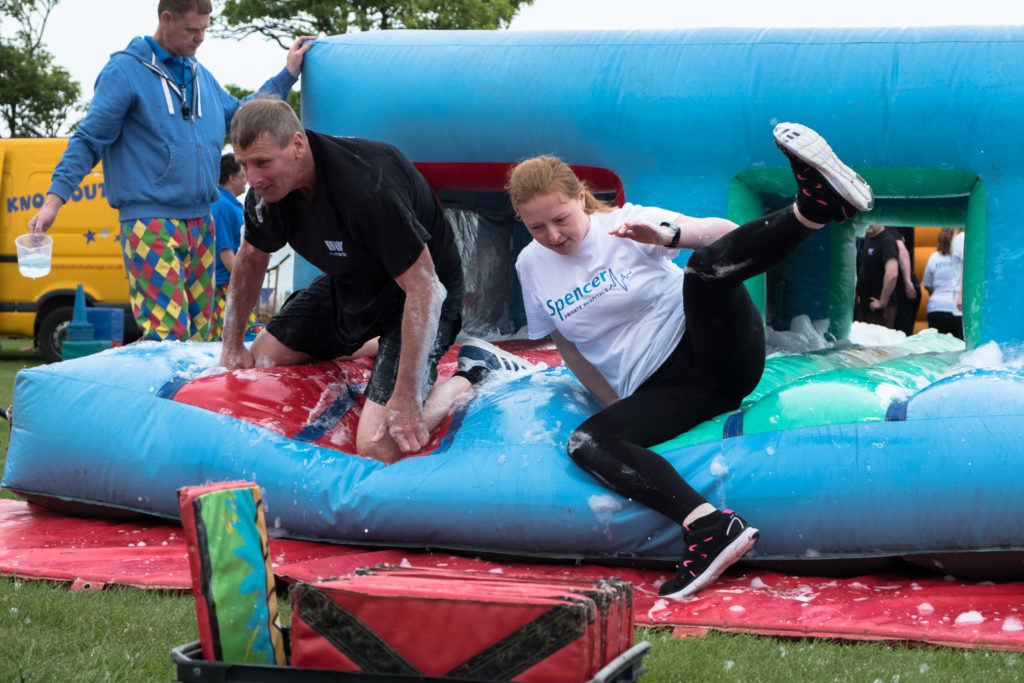 The English Roses team said: "We took part to help raise vital funds to help support the amazing care provided at Pilgrims Hospices; one of our team members, Maxine White, is a Health Care Assistant (HCA) at Pilgrims Hospice Thanet, what a brilliant day we've had."
Nicola Williams, team captain of Nic's Knockouts from Ramsgate, said: "We love this event and so want to win this year; I have also made a joker this year of Donald Trump."
Karen Kenward, Community Fundraising Manager and organiser of the event, said: "This really is a fun event with many supporters returning each year, some of the jokers are hilarious.
"I would like to thank everyone who attended either by taking part, sponsoring their team members, spectators who came along to cheer the teams, the staff and volunteers for helping run our fun stalls, Margate ambulance, catering teams and our very own Knockout team members, and to those who made or dressed up as mascots to help their teams double points.
"Your wonderful support will enable us to continue to provide palliative care for the next person who needs it, both within the hospice and at home. Last year the event raised an incredible £16,400. Early indications show that this year's event has raised around £5,000 with further sponsorship still to come in."
Karen added: "It costs just over £6,800 a day to run each of our three hospice inpatient units, so community support from events like this makes a huge difference to our charity.
The winning team was Nic's Knockouts (they did it, so competitive) and runners up were Broadstairs Business Club and The Wibbly Wobbly Marauders, with team English Roses coming in the last place and receiving wooden spoons.
"Everyone who supported the event received a medal from Pilgrims Hospices, whatever place they finished, as a huge thank you for taking part. You are all deserving winners to us, thank you for a wonderful day."
Check out Pilgrims Hospices Facebook page to see the photos of the day.
If you're interested in Pilgrims fundraising events, click here to find out more and how you can get involved.
---
Each year Pilgrims supports hundreds of local people coping with a life-limiting illness and their families. The charity offers a range of services: from end of life care given on its wards to its Wellbeing and Social Programme supporting people after they are diagnosed to live well and stay independent.