Jenny and Freddy step out to shine for local hospice care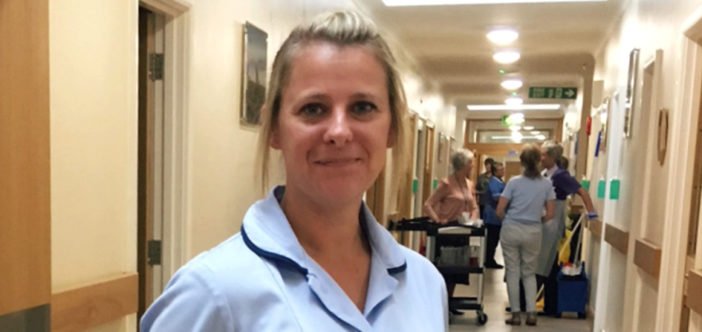 Pilgrims Hospice Ashford Health Care Assistant (HCA), Jenny Jackson, will be joining hundreds of supporters at the charity night time walk, A Night to Shine, on Saturday 22 September. She hopes to encourage as many of her colleagues as possible to join her and raise funds and awareness for end-of-life care in east Kent.
---
Jenny who is 33 from Aldington, has been a member of the Pilgrims team for nine years. Jenny said: "I joined Pilgrims Hospices after having my family; I really love my role as part of the team here at the Ashford hospice. It's a privilege to support patients, their families and friends in such difficult times.
"During the past few years, any spare time has been taken up with supporting my family and focusing on completing my health and social care degree. I will graduate in January and now that my son is attending secondary school, I can enjoy getting involved in new things."
I really love my role as part of the team here at the Ashford hospice. It's a privilege to support patients, their families and friends in such difficult times.

Jenny
Jenny and her 13-year-old son, Freddy, decided that A Night to Shine was a great opportunity to spend some time together, have some fun and generate important funds for Pilgrims at the same time.
Jenny added: "I do my best to look after my health and stay fit. I took up running earlier this year and regularly run around 10k. As well as walking 6 miles with my son, I will be running for Pilgrims in the Givaudan 10k race in October. I want to encourage as many people to join me as a fabulous way of having fun and getting fitter, too.
Freddy, who is attending North School in Ashford, is hoping to raise some sponsorship from friends at school and his family.
Victoria Friar, Pilgrims Hospice Community Fundraising Manager at the Ashford hospice, said: "We can't wait for this event; many of our walkers will dress up and there will plenty of opportunities to purchase glow sticks and lights to brighten up the walking. Local DJ, Webbo, will be helping my team to create a special party atmosphere at the Julie Rose Stadium before we all start our adventure. We are hoping to see as many of the Pilgrims staff as possible joining Jenny for a fun-packed evening!
"Please help us celebrate the lives and memories of loved ones while raising funds to help our charity to continue with its good work."
You can sponsor Jenny and Freddy by visiting their JustGiving page. 
If you'd like to take part in this family-friendly event, sign up now at pilgrimshospices.org/shine or email shine@pilgrimshospices.org for more information.
The event will take place in Ashford, Broadstairs and Canterbury simultaneously. Choose a 3 or 6-mile sponsored walk; entry is £15 for adults and £12 for under 18s if you register by 16 September, and under 3s go free whenever you sign up.
Entry includes a t-shirt, torch, medal and memory lantern for you to personalise with your own message or design.
---
If you or someone you know is coping with a life limiting illness and you think you may benefit from Pilgrims free services, talk to your GP or Healthcare Professional about your options or click here to read about our Wellbeing and Social Programme.