Joan: "I enjoy volunteering at the hospice because it's so varied"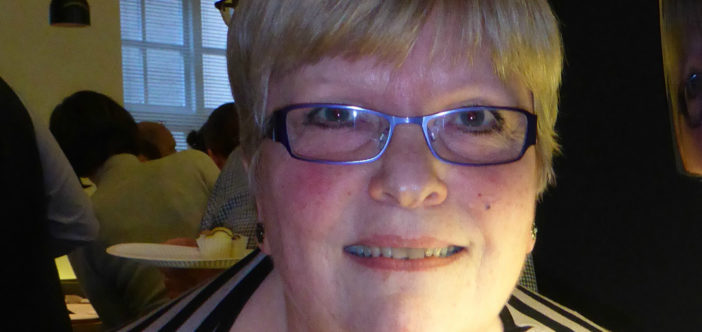 Joan Austin from Westgate chose to volunteer for Pilgrims Hospices after retiring, having spent 25 years in construction industry publishing and 15 years working in a government IT quango.
Here, she shares what she loves about volunteering and the positive things she's learnt about local hospice care.
---
Joan started volunteering at Pilgrims Hospice Thanet in 2013. She has had several roles, and currently does a regular weekly shift in the fundraising office helping with banking, which is a very important and valued role.
Alongside her volunteer role at Pilgrims, Joan keeps active with line dancing, walking netball and pickleball, which is like table tennis on a badminton court. She also volunteers for Canterbury Archaeology Trust, cleaning the finds that have been excavated in Kent including bones, pottery and clothes.
Why did you decide to volunteer for Pilgrims and what do you enjoy about it?
I was approaching retirement (I know, I look too young to have retired!) and making a list of things I might like to do with my free time. I enjoy volunteering at the hospice because it's so varied – I've volunteered on the hospice reception, the outpatient clinic reception and now in the fundraising office. It's nice to have the opportunity to take on different roles. Variety is the spice of life!
What positive things have you learned about Pilgrims that others might not know?
I've made lots of friends here. I didn't realise the hospice provides all the services that it does, and I've enjoyed going to meetings where staff talk about the role they play. The atmosphere is cheerier than people think and it's nice to chat and joke with patients, I think they enjoy the normality of it.
I've made a lot of friends here. The atmosphere is cheerier than people think and it's nice to chat and joke with patients.

Joan
Karen Kenward, Community Fundraising Manager, said: "Joan is very concise and accurate in her role. She also helps out at many fundraising events on the registration desks. She is knowledgeable and creative, and so giving. Joan also paints stones and makes teapot cosies in her spare time, helping to bring in vital funds for our craft events. She gets to count her very own funds generated through her wonderful talents. It's a real pleasure working with Joan as part of the Thanet team, her smiley face and chit-chat is so very warming each week."
---
Inspired to become a Pilgrims' volunteer?
Visit pilgrimshospices.org/volunteer and look out for more stories and information throughout Volunteers' Week!
Tell us your volunteer story on social media by using the hashtags #PilgrimsLife and #VolunteerVoices.
---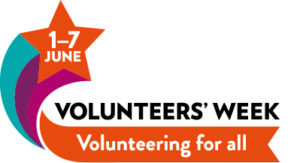 Volunteers' Week

is a chance to say thank you for the fantastic contribution millions of volunteers make across the UK. It takes place 1-7 June every year and is an opportunity to celebrate volunteering in all its diversity.
---

We're accredited by REVAMP, a quality mark for Volunteer Involving Organisations developed by Stronger Kent Communities, a leading provider of support for the voluntary sector in Kent.
---