9-year-old Jonny raises over £100 for local hospice care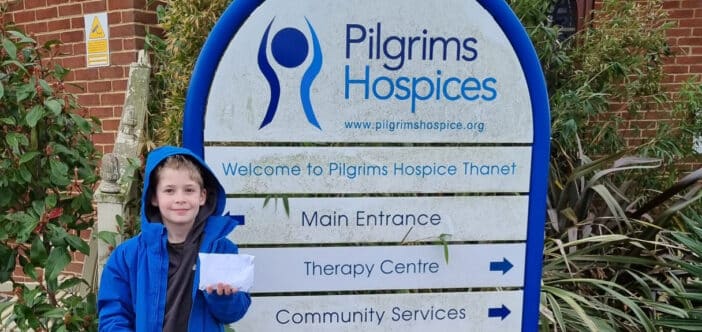 Young Pilgrims Hospices supporter, Jonathan Brown from Margate, has raised more than £100 for local hospice care. He collected donations in memory of his Pop Pops, who was cared for at the Thanet hospice in 2018.
---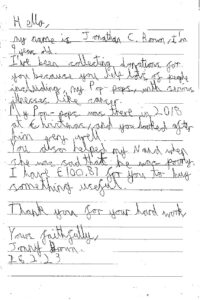 Before Christmas, Jonny who attends Cliftonville Primary School, made a collection pot during his break time; he told people about Pilgrims Hospices and the important work they do, and asked if anyone would like to donate to help the hospice to care for even more people.
Jonny (age 9), sent Pilgrims a lovely letter, along with his £105.00 donation, explaining how the charity had cared for his Pops. Roger Golding from Cliftonville, who was 68, had a cancer diagnosis, and passed away at the Thanet hospice on Christmas Day 2018.  Pilgrims also supported his Nana, Julie Golding when she was very sad.
Karen Kenward, Pilgrims Community Fundraising Manager said: "Thank you Jonny! Your special message warmed all of our hearts, you can be sure your donation will truly help to make a difference to those how need our care.
"We are so proud to have the support of such a young fundraiser, Jonny will be an inspiration to others with their continuing support of Pilgrims special care.
"It was lovely to hear the positive memories of his Pops and the care, and support that his family received at such a difficult time, once again, thank you so very much."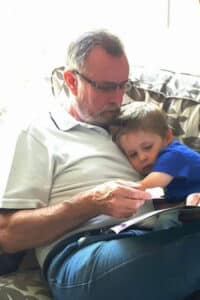 Jonny's mum Hannah Brown said:
"Last year, Jonny's older sister Ellie (age 11) had her hair cut to raise money for charity, and this inspired him to want to fundraise. Jonny decided he really wanted to help the hospice as they provide amazing care, and support for patients and their families; something we ourselves have benefited from.
"He made a collection pot, and spoke to people about the wonderful work the hospice team do. He worked really hard to secure donations from friends and family, with the intention of only raising £20, but his enthusiasm took over, and he eclipsed his original goal.
"We are really proud of Jonny and how well he has done with his fundraising."
---
Pilgrims Hospices cares for thousands of local people each year, free of charge, during the most challenging time in their lives. They offer care and support in people's own homes, in the community and in their inpatient units as well as running a 24-hour advice line.