Judy: "I have met so many inspirational people"
Judy Landi from Ramsgate has been a reception volunteer at Pilgrims Hospice Thanet for 26 years, welcoming patients and visitors and helping to make them feel comfortable. Here, she shares what she loves about her volunteer role.
---
When a patient or visitor first arrives, Judy offers them a cup of tea or coffee or recommends a nice meal in the nearby hospice cafe. She said: "I enjoy chatting with people and getting to know them. It is such a friendly, positive place. I have made many friends and met so many inspirational people."
It is such a friendly, positive place. I have made many friends and met so many inspirational people.

Judy
Before she started volunteering, Judy enjoyed working as a carer in the local community. She retired early to look after her two grandsons while her daughter worked, and also to spend time with her mum who was unwell. She added:
"I didn't realise how many services the hospice provides. There is a day centre where patients living at home can come once a week and enjoy the company of others. This gives the family or carer time to themselves while knowing that their loved one is being looked after. Complementary therapies, reflexology and massage are also offered for relaxation.
"I hope to continue volunteering for many more years."
Karen Kenward, Community Fundraising Manager, said: "Judy's passion for the hospice really shines through. The time she has spent sitting, talking and serving teas and coffees over the years to the many visitors and patients we have each week makes Pilgrims what it is today. Thank you, Judy, for your incredible support."
---
Inspired to become a Pilgrims' volunteer?
Visit pilgrimshospices.org/volunteer and look out for more stories and information throughout Volunteers' Week!
Tell us your volunteer story on social media by using the hashtags #PilgrimsLife and #VolunteerVoices.
---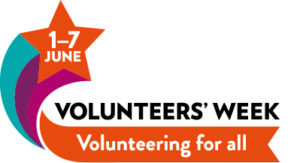 Volunteers' Week

is a chance to say thank you for the fantastic contribution millions of volunteers make across the UK. It takes place 1-7 June every year and is an opportunity to celebrate volunteering in all its diversity.
---

We're accredited by REVAMP, a quality mark for Volunteer Involving Organisations developed by Stronger Kent Communities, a leading provider of support for the voluntary sector in Kent.
---