Kitty joins Divas on Wheels to get more women and girls cycling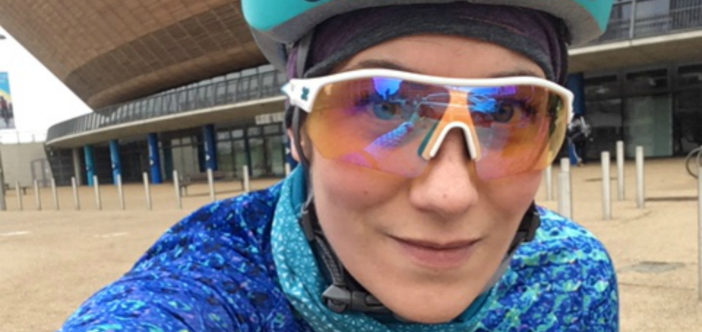 Kitty Tompsett from Hawkhurst loves to keep fit by running and cycling. Her popular Instagram account @kate.runs.rides is an inspiring insight into her active lifestyle, and she is a firm advocate of body positivity.
Kitty is taking part in Divas on Wheels for Pilgrims Hospices on Sunday 11 August. She shares how she got into cycling and why it's so important to encourage women to ride.
---
How and why did you begin cycling?
I have always been the runner and my husband the cyclist, but when my daughter began wanting to ride I decided I would buy a cheap mountain bike for family rides. I soon found a love for it and began mountain biking as well as running, just for myself, spending time in the forest being active.
How did you build up confidence in cycling and riding on the road?
After completing two marathons I was looking for a new challenge. I loved mountain biking but road cycling scared me – I told a friend I would never do a road sportive because I was too nervous riding on the roads. In that moment, I knew I had to do one. Over the past few years I've promised myself I would do things that scare me, that I don't think I can do. This was definitely one of them! So, I applied for Ride London 46 and got a road bike. Sadly, I couldn't take part as I had surgery for endometriosis at the same time.
Still determined for a challenge I applied, and got a place in, the Ride London 100 ballot. This meant I had to push myself to do things like riding on my own, on busy roads and with clips, and riding distances I didn't think were possible for me to complete. Each time I've achieved one it's added a little more to my confidence. Without having the event to train for, I don't think I would have tried some of these things and I would still feel nervous about them.
What are your top tips for anyone taking part in Divas on Wheels?
You don't have to ride clipped in.
Padded shorts are a must (and Body Glide helps!)
Wear what you're comfortable in; Lycra is great but it's not necessary.
Ride the mile you are in.
Find like-minded people to ride with, it will add to the fun.
Always stop for cake, or at least finish with it.
Find inspirational cyclists to follow on social media. I recommend @yourroyalthighness_, @kateplusfate, @rachybox and @tahneeseagrave.
Why do you think it's important to get more women cycling?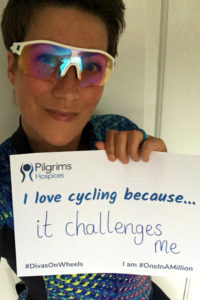 Cycling, especially road cycling, is still one of the more gender separated sports.
It is so important to encourage women into cycling because that's how change happens; from within, from the grassroots. As women we often don't take time for ourselves. Cycling is a great chance to take that time; to be sociable, to achieve and maintain a healthy body and mind and to show that we are as capable as men in the sport.
Follow Kitty on Instagram @kate.runs.rides.
---
Divas on Wheels takes place on Sunday 11 August 2019.
Starting from The Independent Pedaler in Bridge near Canterbury, choose to ride either a 25-mile or 50-mile route through the countryside on quiet roads.
If you're new to cycling, have no fear! Dozens of our special Bike Heroes will join you, leading small groups and offering roadside repairs.
Standard entry of £25 is available until 4 August 2019.
On the day entry will be £35.
---
If you or someone you know is coping with a life limiting illness and you think you may benefit from Pilgrims free services, talk to your GP or Healthcare Professional about your options or click here to read about our Wellbeing Programme.