Local teacher joins Divas cycle ride for Pilgrims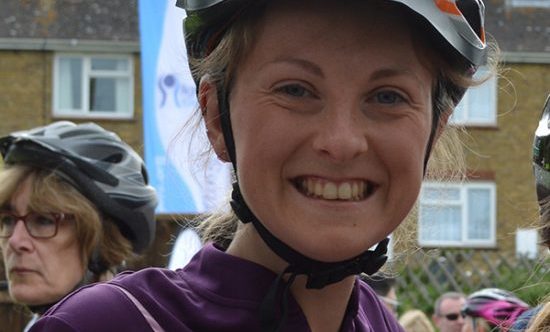 Local teacher Lou Allen from Graveney near Faversham is supporting Pilgrims Hospices exclusively ladies charity cycle ride, Divas on Wheels on 18 June, helping to raise important funds and awareness for hospice care in east Kent.
Lou told us: "This is my second year of cycling the Divas on Wheels charity ride. I really like the fact it is purely for ladies; it makes the whole event feel more relaxed rather than a race. Especially as I can enjoy some of the girlie pampering after the event."
Lou completed the 25 mile ride last year and plans to complete the 50 miler this year. She rides with the Freewheel Cycling Club where everyone is very supportive and has been building up some miles and technique in order to be ready for the event on 18 June.
"My role as a teacher at Queen Elizabeth's Grammar School in Faversham keeps me busy , I don't always train as much as I'd like. However, I will make the most of the training rides offered at the Freewheel Cycle Café and make sure I'm fit and ready in time." Lou told us.
"Granny was cared for by Pilgrims when I was in my teens." said 26 year old Lou. "I know first hand of the importance of Pilgrims care, I always remember how helpful the hospice team were and I will always be grateful for that."
It's great to have Lou riding again this year.
Deborah Kellond, Community Fundraising Manager for Pilgrims Hospices said: "It's great to have Lou riding again this year, our supporters are amazing and we know the event is going to be a great fundraiser allowing us to continue to provide important care for patients and families who need our help the most."
If you would like to help to raise vital funds for Pilgrims Hospice care, please support Lou by donating to her Just Giving page.
There's still plenty of time to join the Divas who have already signed up for this fun event. You can register on line at Divas on Wheels or contact Deborah Kellond on 01227 812621 deborah.kellond@pilgrimshospices.org
Each year Pilgrims supports hundreds of local people coping with a life limiting illness and their families. The charity offers a range of services: from end of life care given on its wards, to its new wellbeing and social programme supporting people after they are diagnosed to live well and stay independent.
Care is provided from three hospice sites in Ashford, Canterbury and Thanet as well as in patients' own homes. To offer these services to patients and their families the charity must raise £11 million each year from the generous local community.