Loving dedications flourish on Pilgrims Memory Trees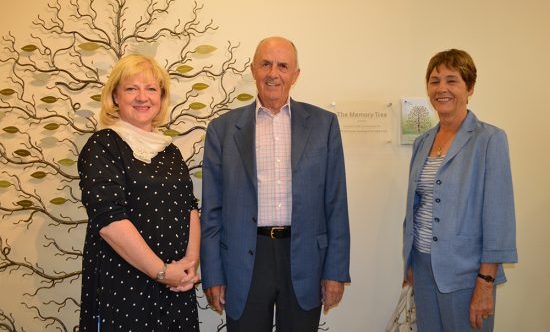 Following the launch of Pilgrims Hospices Memory Trees in 2016, more than 400 Pilgrims supporters have taken the opportunity to display a lasting tribute to a loved one.
Pilgrims Memory Trees are three flourishing tree sculptures in the Ashford, Canterbury and Thanet hospices.
Positioned in reception areas, Memory Trees are a way for people to visit the hospice and reflect on special memories in the presence of their copper, silver or gold engraved leaf or dove.
Memory Trees are open to any members of public wishing to create a memorial. They're not only those who've been touched by Pilgrims care; anyone wishing to create a lasting memorial can dedicate a leaf or dove.
Georgina Martin from Sellinge and her husband, Terry Martin, visited the Ashford hospice to see the leaf they've dedicated for their son, Gary Townsend. Gary was 45 when he was cared for at Pilgrims Hospice Ashford. Georgina said: "My daughters remember their big brother as always joking. The Tree and leaves are beautiful and will be a very lovely permanent reminder of Gary."
All donations made through the Trees will help Pilgrims to continue to offer support to local people.
Wendy Hills, Pilgrims Hospices Director of Nursing and Care Services, said: "We understand the importance of celebrating life, honouring those who were special to us and keeping memories alive. The leaves on the Trees will be lasting, beautiful tributes that you can share with family and friends.
"Our supporters' amazing contributions to our beautiful Trees have already raised more than £46,600, which is an incredible achievement. Each and every act of kindness means we can be there for the next person who needs us."
You can dedicate a leaf or dove on our beautiful Memory Trees now displayed at all three Pilgrims sites.
Find out more or contact Supporter Relations on supporter.relations@pilgrimshospices.org or call 01227 782 062.
This July, we'll also celebrate the fourth annual Sunflower Memories remembrance days at all three hospices.
You're invited to join us for our sunflower garden parties. Re-live your memories in the tranquillity of our gardens; music and light refreshments will also be part of the day. Find out more.