Maria takes on challenge with a twist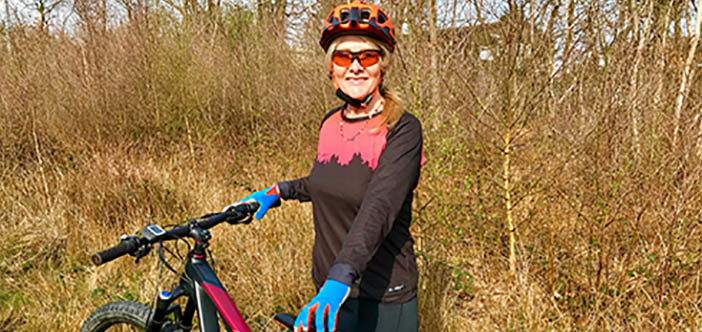 Maria Treadwell will be riding Pilgrims Hospices Divas on Wheels ladies only cycling event on Sunday 18 June on her E Flow electric bike. She will undertake the 50 mile picturesque cycle ride along with 100's of ladies all in support of hospice care in east Kent.
Maria isn't a regular cyclist but with her amazing electric cycle she will be able to enjoy every minute of this amazing cycle ride. Maria decided on an e-bike to help her gain confidence and fitness levels. "It's just like a regular bike with an easy click on electric assist whenever a bit more support is required. I love my e bike is given me the confidence to get out there and do some major fundraising activity for Pilgrims Hospices." said Maria.
I decided to ride Divas on Wheels in response to the wonderful loving care Mum and our family received.
"My mum Sue, was cared for by Pilgrims Hospices, I've decided to ride Divas on Wheels in response to the wonderful loving care Mum and our family received from the Pilgrims Therapy Centre team and later in the hospice ward.
"Without the amazing support offered by the staff and volunteers we would have found our journey very different. Our visits to the hospice were like going into an oasis of calm and love, allowing us both to forget our fears and anxieties for a while.
"I'm really looking forward to Divas on Wheels, Pilgrims Hospices fundraising team has been a great support and it will be quite an experience to cycle with so many ladies for such a good cause. I'm undertaking the Coast 2 Coast Challenge in September so look out for me training and give me a wave!
I can never thank the hospice enough.
"I can never thank the hospice enough for enabling our family to share this time with mum, so trying to help raise money to allow other families to have the same opportunity seemed like the right thing to do."
Deborah Kellond, Pilgrims Community Fundraising Manager said: "It's wonderful to have Maria cycling Diva on Wheels. She will be in good company and there are plenty of Pilgrims Bike Heros out on the ride to make sure everyone stays safe and receives help if needed."
You can register here, just click Divas on Wheels or contact Deborah Kellond for more information deborah.kellond@pilgrimshospices.org
There's a free confidence ride on Saturday 6 May riding from the Freewheel Cycle Pub and Café at Graveney, Faversham at 9:30am for any ladies who wish to gain some road experience.
If you or someone you know is coping with a life limiting illness and you think you may benefit from Pilgrims support, talk to your GP or Healthcare Professional about the options or visit Pilgrims Hospices website Wellbeing and Social Programme.