Masonic charitable trust supports Pilgrims Hospices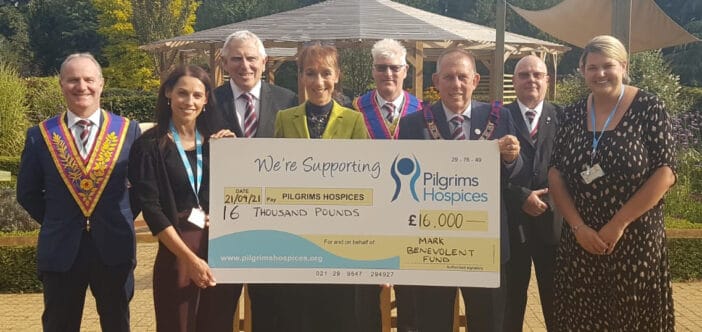 The Provincial Grand Lodges of Mark Master Masons of Kent have supported Pilgrims Hospices with an incredible £16,000 donation from their Mark Benevolent Fund (split between Pilgrims Hospice Canterbury £5,000, Pilgrims Hospice Thanet £5,000 and Pilgrims Hospice Ashford £6,000). Sixteen Mark lodges in the Province nominated  Pilgrims Hospices to receive £1,000 from their lodge.
---
The donation, which is part of the Major Capital Grant of £1.3m to over 250 hospices in England, Wales, Channel Islands and Isle of Man, recognises the contribution made by HRH The Prince Philip, Duke of Edinburgh to the service of the Crown and the life of the nation.
The first presentation of the day for £5,000 was made to the Pilgrims Hospice in Thanet and was attended by Ralph Apperley, Neil Drakley, Peter Jenkins and Reg Pritchard representing, Holmesdale 129, Granville 390, Sandwich Haven 796, St Peter in Thanet 1053 and Ramsgate 1073 Mark lodges.
The second presentation for £5,000 was made to the Pilgrims Hospice in Canterbury and was attended by Peter Dowling, Bob Mitchell, Cliff Norris, Tony Lay and Peter Lapage who represented, Dover and Cinque Ports 152, St Marin's 262, Herne Bay 771, Whitstable 983 and Cantwara-Byrig 1168 Mark lodges.
The third presentation for £6,000 was made to the Pilgrims Hospice in Ashford and was attended by James Stretton, Peter West, Peter Dowling and Colin Griffiths who represented Amherst 266, Invicta 378, Folkestone 380, Crane 1157 and Romney Marsh 1417 Mark lodges.
Sue Sharp, Director of Income Generation of Pilgrims Hospices welcomed the donation by saying:
"It was an absolute pleasure to welcome members from the The Provincial Grand Lodges of Mark Master Masons of Kent who all came together to support their local Pilgrims Hospices by visiting each hospices garden. The past year has been very challenging for Pilgrims, like for many of us, so it is with deep gratitude that we have received such a generous donation which will help ensure we are able to continue providing our compassionate care and support to our patients and their families in our hospices or in the community, even in difficult times."
W.Bro. Martyn Summers, the Assistant Provincial Grand Master for Kent summed up the day with the following quote:
"We are absolutely delighted that sixteen Mark lodges chose to support the Pilgrims Hospices located in Thanet, Canterbury and Ashford. We are all aware of the toll that the pandemic has taken on charities across the country and hope that this small gift will go some way to help enhance patient care and provide improved facilities for those in need and their families."
---
Each year Pilgrims Hospices give care and comfort to over 2,500 people in east Kent who are coming to terms with an illness that sadly cannot be cured. The charity support patients to live life as well as possible until the very end, free from pain and distress.