Natalie Sutton – Pilgrims' first Nurse Associate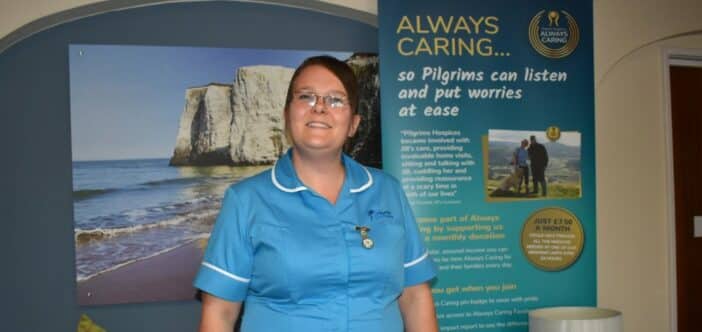 Natalie Sutton has recently qualified in a brand new role as a Nurse Associate within the nursing team at Pilgrims Hospice Thanet.
She has been a valued Health Care Assistant (HCA) within the care team for six years, her new role will be working with healthcare support workers, and registered nurses to deliver care for patients and their families. It's also a stepping stone to becoming a registered nurse.
---
Natalie is 35 years old and lives with her husband James in Ramsgate, she told us that after leaving school, she went to college to study child care, and pursued a career caring for young children. Thereafter she spent a number of years enjoying a career in retail. However, in her heart of hearts, she knew that care was in her blood, but didn't quite know which area to choose.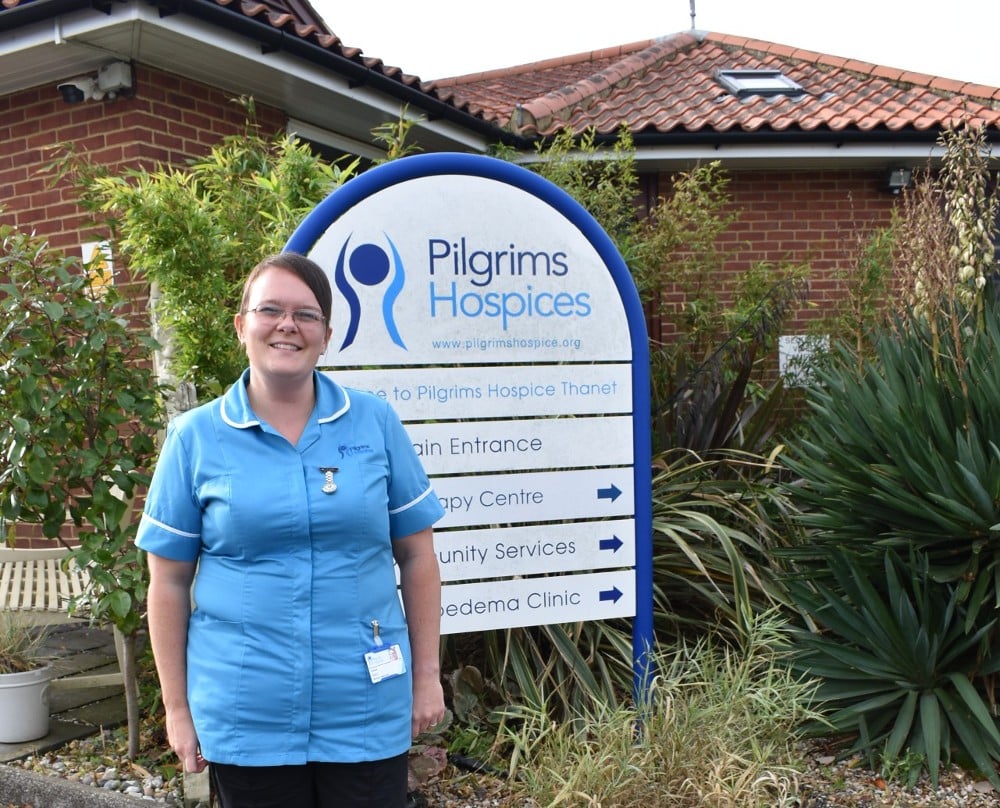 After nine years with Sainsbury's, Natalie applied to work with a nursing agency, undertaking some domiciliary roles, working in peoples' homes and care homes, she enjoyed the role, caring for a wide variety of people over two and a half years.
She said: "While I was with the nursing agency, I looked after someone who was dying, and the colleague I worked alongside, shared her skills and knowledge with me; I learned so much about the correct procedures, and it truly sparked my interest in palliative care.
"I decided to look for career opportunities with Pilgrims Hospices. My mum is a Palliative Specialist Nurse (PSN) with Pilgrims, and when I explained how I felt, she said that Pilgrims is a great place to work, and there might be opportunities for me to find a role within the care team.
"I joined as a Health Care Assistant, and loved supporting with patients' personal care, dietary requirements and much more. These are some of the elements that nurses don't always have time to do in their busy shifts.
In 2019, Natalie read about a brand new role of Nurse Associate that Pilgrims were going to add to the care team. It meant going to university as an apprentice while still working. "I was really interested, especially as this would allow me to continue working while taking on the university study. I would not have been able to afford to go back to full-time study.
"I knew at this point I was really interested in taking my care career to the next level. In 2020, I took up a place to study at Canterbury Christchurch University, knowing it was a two-year programme to qualify. Pilgrims were really supportive and I completed my protected learning at the Canterbury hospice, giving me some time away from my HCA day role in Thanet, allowing me some quality time to really focus on the new training.
"Initially, I felt quite overwhelmed and I wasn't sure if would be able to manage the training, but with my husband's and colleagues' support, I soon got into my stride. I trained myself to find the best ways of learning and study, and soon came to grips with the essays and assignments to complete."
In Natalie's new role she will be assisting the nurses with their daily jobs, including medicine management, admissions and discharges.
As the first homegrown Nurse Associate, Natalie was instrumental in the selection of the brand new uniform for the role.
"I'm really enjoying my new role, I've also been able to share some of my training experiences with other HCAs that may encourage them to consider the opportunity. I'm always happy to share my experiences, Pilgrims are hoping to have a Nurse Associate at the Ashford and Canterbury sites too."
When asked if she might consider taking her skills to the next level, and become a registered nurse she said: "Yes, perhaps in the future, but just now, I'm really enjoying my new role. Everyone here has been incredibly supportive and respectful of my new skills, I'm delighted to be part of Pilgrims' care, we have the most amazing bond amongst our team.
"The whole team feel passionately about end-of-life care for patients and their families, and we know from personal experience that the people we care for are immensely grateful for our help."
Kate White, Pilgrims Hospices Head of Nursing said: "I would like to say a massive congratulations to Natalie on becoming our first ' homegrown' Nurse Associate!  Her hard work and dedication has paid off, we are very proud of her.
"The new nursing associate (NA) role was introduced in England to bridge the gap between health care assistants and registered nurses. We hope to support further members of Pilgrims' care team to take up these opportunities."
If you would like to know more about care opportunities within Pilgrims Hospices, please visit pilgrimshospices.org/vacancies for more information.
---
Each year Pilgrims Hospices give care and comfort to thousands of people in east Kent who are coming to terms with an illness that sadly cannot be cured.  The charity support patients to live life as well as possible until the very end, free from pain and distress.
Care is provided from three hospice sites in Ashford, Canterbury and Thanet as well as in patients' own homes.  To offer these services to patients and their families the charity must raise £11 million each year from the generous local community.