Horsewoman Natasha takes on Santas on the Run!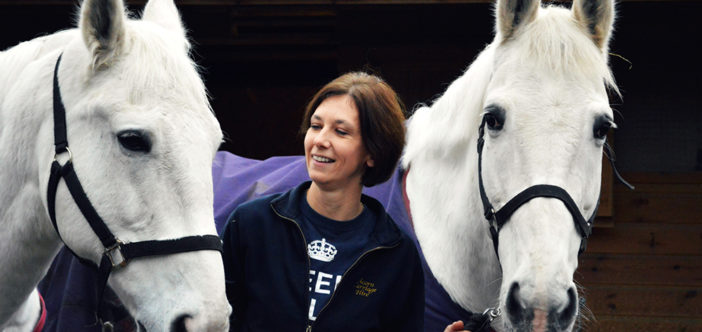 Passionate horsewoman Natasha Manning is taking on a personal challenge this festive season to raise money for Pilgrims Hospices. The charity cared for her husband, Mike McGrath, at their Canterbury hospice last year.
Natasha runs a popular local horse drawn carriage business in Faversham, which was set up with her late partner. She's supporting Pilgrims by taking part in its new festive fun run, Santas on the Run!, along Herne Bay seafront on 3 December to raise vital funds that will help the charity support even more people in need of its care.
Natasha and Mike, both from Faversham, owned and ran Acorn Carriage Hire, providing beautiful horse drawn carriages for weddings and special occasions. Mike ran the local business for more than 25 years; Natasha continues to run it today and treasures their magnificent black and grey horses.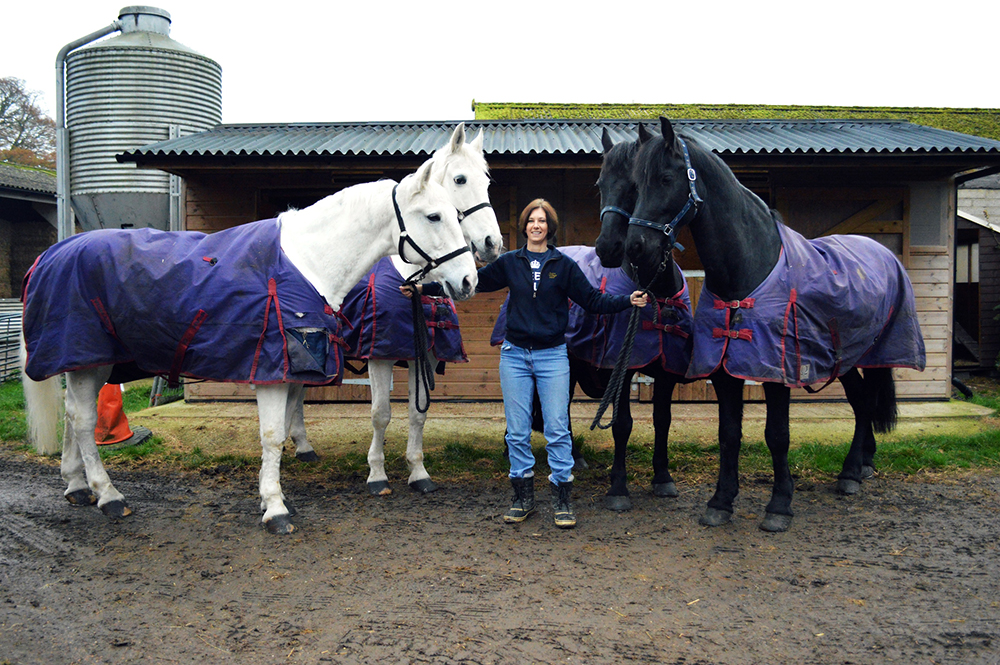 Natasha said: "When Mike was diagnosed with cancer, I started running the carriage services while he undertook office-based activities to help better manage his health condition. Sadly, he became more unwell over a period of two years. After surgery and chemotherapy he was admitted to the Pilgrims hospice in Canterbury."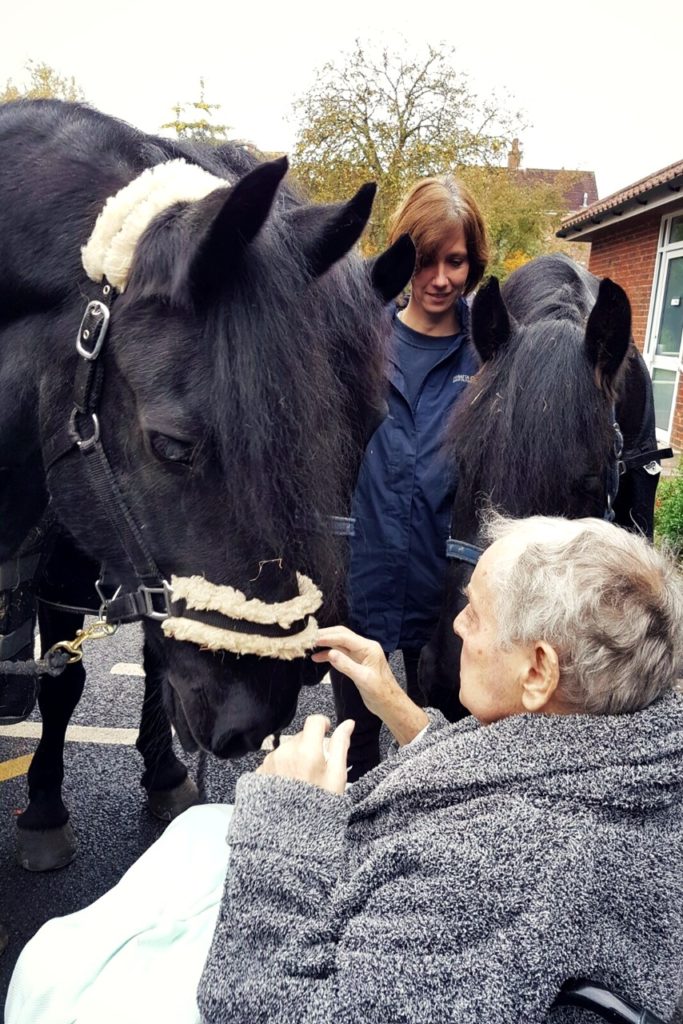 While at the hospice, Mike missed the horses. Natasha worked with his hospice doctor and care team to plan a visit from his favourite black Friesian horses, Little Man and Bruno. Mike was taken by wheelchair to where the horses could greet him.
Natasha explained: "The visit went really well and Mike was truly delighted to see them. It was his opportunity to say goodbye to the horses that had been such a huge part of his life for so many years.
"I can't express how kind everyone at the hospice was to Mike and the family. Nothing was ever too much trouble; whether he had a craving for an ice lolly or a relaxing bubble bath, the Pilgrims team were always there to make it happen for him. He enjoyed the company of all the care team and there was always some cheeky banter. He spent his last days in a place he felt safe, comfortable and truly cared for."
Deborah Kellond, Community Fundraising Manager said: "Our care team go to amazing lengths to support patients to live life to the full whilst they are in Pilgrims care. We're delighted that Natasha is joining Santas on the Run! and running in memory of Mike."
Nothing was ever too much trouble; whether Mike had a craving for an ice lolly or a relaxing bubble bath, the Pilgrims team were always there to make it happen for him.
Natasha stays in touch with other families who were using Pilgrims services at the time and draws comfort from sharing their experiences.
She explained: "I'm looking forward to being part of the Santas on the Run! event. Mike's daughter, Sally-Ann, will be joining me on the day and we'll both be there in memory of Mike, who was very keen to support the hospice that offered him so much comfort. I'll be asking my business contacts to sponsor me and I hope to raise lots of money to help support more people who need local hospice care."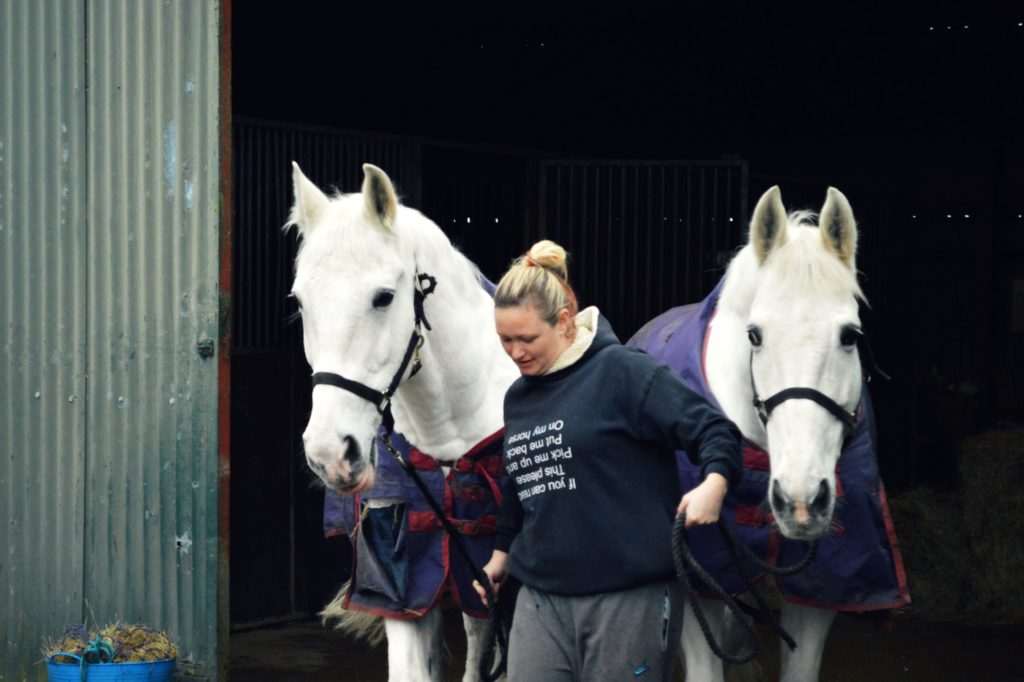 ---
Santas on the Run! 2017 raised an early estimated £16,000 for local hospice care. It will return on 2 December 2018; keep an eye on our event calendar for updates and to check out the full range of Pilgrims events on offer throughout the year.
If you or your family are experiencing Pilgrims care, find out about the support Pilgrims can offer through our Wellbeing and Social Programme.