Patsy Worthington: Dedication to Palliative Care Nursing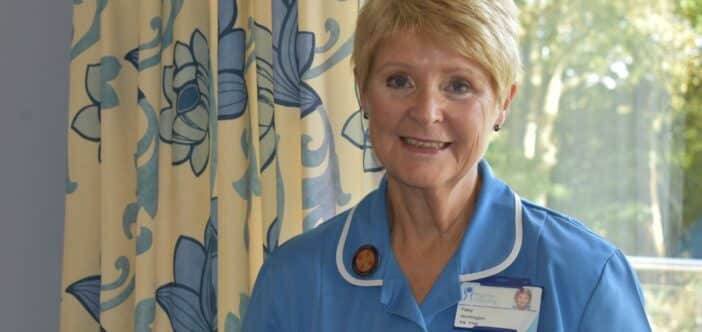 Patsy Worthington, a compassionate and dedicated nurse, is retiring at the age of 70, bidding farewell to her colleagues and friends at Pilgrims Hospices this month. Her remarkable journey as a palliative specialist nurse at the Canterbury and Ashford Hospices has left an indelible mark on countless patients, their families, and friends. Before her nursing career, Patsy had a diverse background that included working as an air stewardess and owning her own hairdressing salon. However, she found nursing to be a truly rewarding and fulfilling career, especially in the context of her work with Pilgrims Hospices.
Patsy's journey into the healthcare field began when she trained as a healthcare assistant.  She started with no formal qualifications, working her way up from being a healthcare assistant to becoming a qualified nurse. Her decision to undertake her nurses training was influenced by her husband's illness, which ignited her passion for nursing. She embarked on her nurses training in 2007 at the age of 50, inspired by the district nurses who supported her husband during his illness.
With resolute determination, she pursued her nursing degree at Christchurch University Canterbury, committing herself to caring for the terminally ill. It took three years of hard work and study, and her husband's unwavering support, to achieve her goal. Pilgrims Hospices also played a vital role in supporting her through this educational journey.
Patsy's pride in her profession is evident as she reflects on her role in providing comfort and solace to terminally ill patients. Her colleagues, Sarah Martins and Kate White, speak highly of her, acknowledging her understanding of the unique needs and concerns of patients and their families.
"I'm so proud when people ask what I do for a living, and I can say I'm a nurse and I'm part of the Pilgrims Hospices care team."

Patsy      –     RGN Pilgrims Hospices 
One of Patsy's most significant contributions was her mentorship of nursing students who passed through Pilgrims Hospices. She shared her knowledge and wisdom, instilling in them the importance of caring for the person behind the illness. Her work in inspiring the next generation of nurses has been particularly special to her. Patsy offers a positive message for future nurses and students considering palliative care. She emphasises the rewarding nature of her career and the value she felt as a member of the Pilgrims Hospices team.
Reflecting on her nursing career, she expresses her willingness to do it all again, despite the challenges that come with age. The COVID-19 pandemic was a particularly challenging period in her career. The absence of volunteers, restrictions on visitors, and the emotional toll it took on both patients and healthcare providers, left a deep impact to all it touched.
I'm finishing my career with a really positive message for students and nurses who are in training, or thinking of working within palliative care.  I've had the most wonderful career, and can only say it has been truly rewarding. Pilgrims has always made me feel to be a valued member of the team, I'm very lucky to have enjoyed such a wonderful and rewarding career.

Patsy    –   RGN Pilgrims Hospices
As Patsy brings her nursing journey to a close, her legacy is immeasurable. The lives she has touched, the comfort she has provided, and the future nurses she has inspired will forever remember her dedication and compassion. Patsy's legacy will be cherished by many.
In her well-deserved retirement, Patsy, her husband, and their faithful dog Popeye, plan to enjoy the peaceful coastal village of Dymchurch. She intends to focus on gardening, walking her dog, and spending quality time with her sisters. She looks forward to celebrating her retirement with her colleagues, knowing that her relationships with them will endure.
In conclusion, Patsy Worthington's dedication to palliative care has left an indelible mark on the lives of countless patients, families, and future nurses. Her retirement marks the end of a beautiful chapter, but her legacy of compassion, dedication, and love will continue to inspire and guide others for years to come.
---
Each year Pilgrims supports thousands of local people coping with a life-limiting illness and their families. The charity offers a range of services: from end-of-life care given on its wards, to its Wellbeing Programme supporting people after they are diagnosed to live well and stay independent.