Paul's 100 mile pedal for a purpose!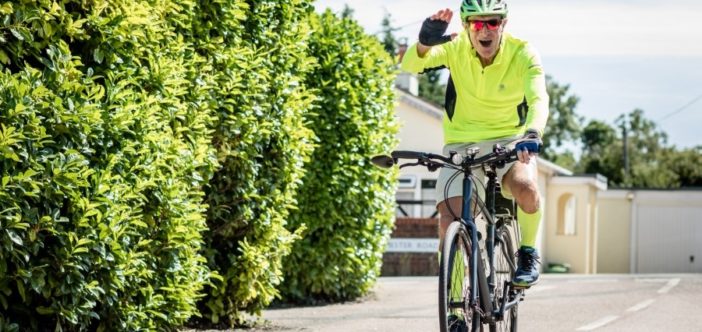 On Thursday 6th August cycling enthusiast and dedicated long term Pilgrims Hospices supporter Paul Kelly, cycled 100 miles for Pilgrims Hospices. Paul, who likes a little adventure, and is a 73 year old retired Marine Engineer, decided that after the unfortunate cancellation of Pilgrims Cycle Challenge that he would utilise his lockdown training over the last few months and get back in the saddle on his own carefully thought out 100 mile route.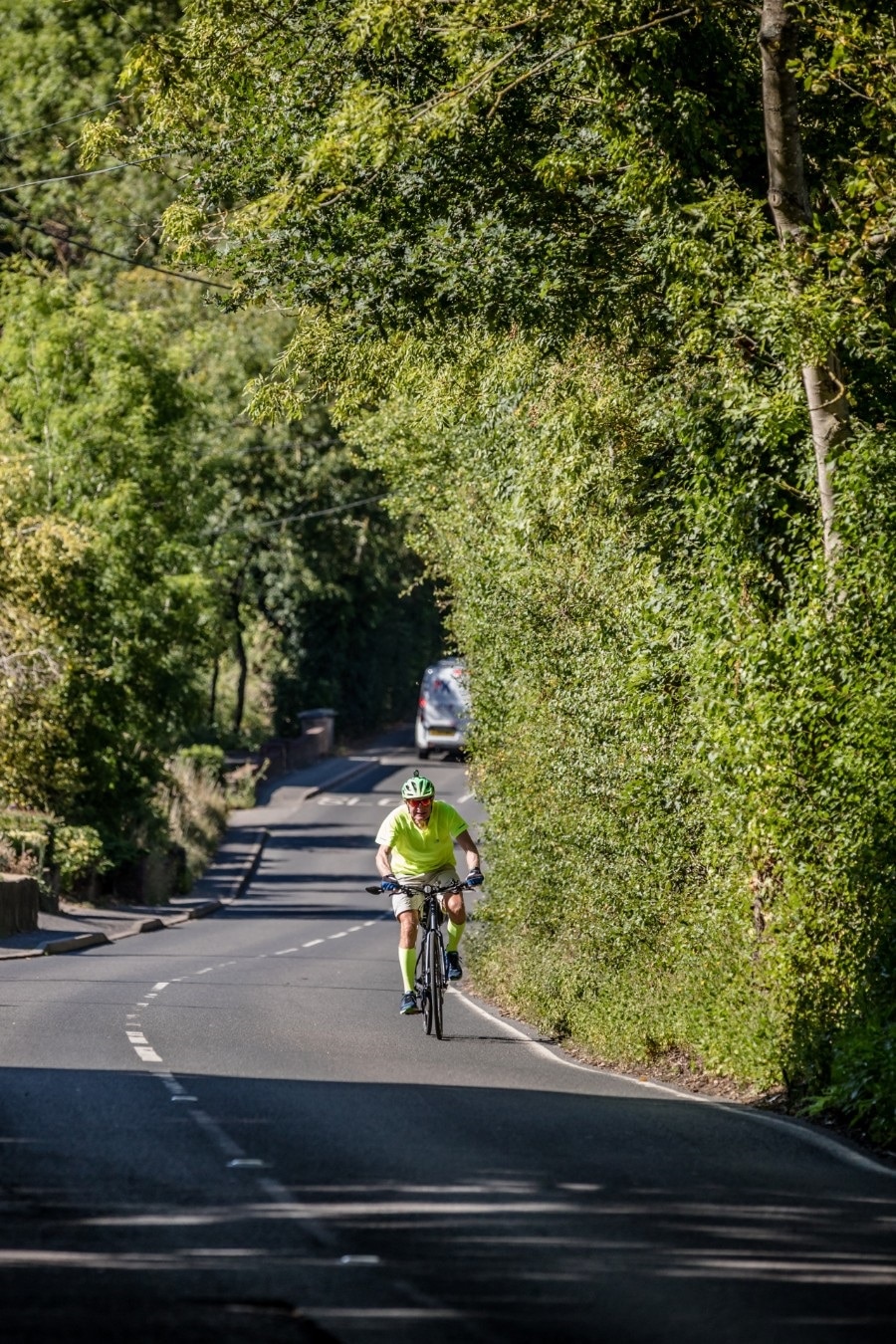 Paul planned his own 'feed stations', including one at his home at Whitfield near Dover. Not only did Paul cycle 100 miles, but he also did it on one of the hottest days of the year! Purely a coincidence, Paul also chose to complete the challenge on #CycleToWork day, which this year was changed to Cycle to Who? What? Where? Day because of the pandemic.
We would like to thank all those who have supported Paul in raising an impressive £1,700

Kate Duddell, Fundraising Manager
Paul explained: "My wife and I did our first Pilgrims Cycle Challenge on the 50 mile route to Margate, when this route was changed I tried the 75 mile challenge. Of course, I then had to attempt the 100 challenge the next year and the year after, regrettably the 125 epic would be too much for me as I wouldn't get back in time for my medal!"
"This year having stated training in March for the postponed May event, I kept in shape for the new event due to take place on 23rd August. I seriously doubted early on that cancellation of the event was a real possibility so I planned my own 100 mile challenge roughly based on the Pilgrims route which I completed on 6th August".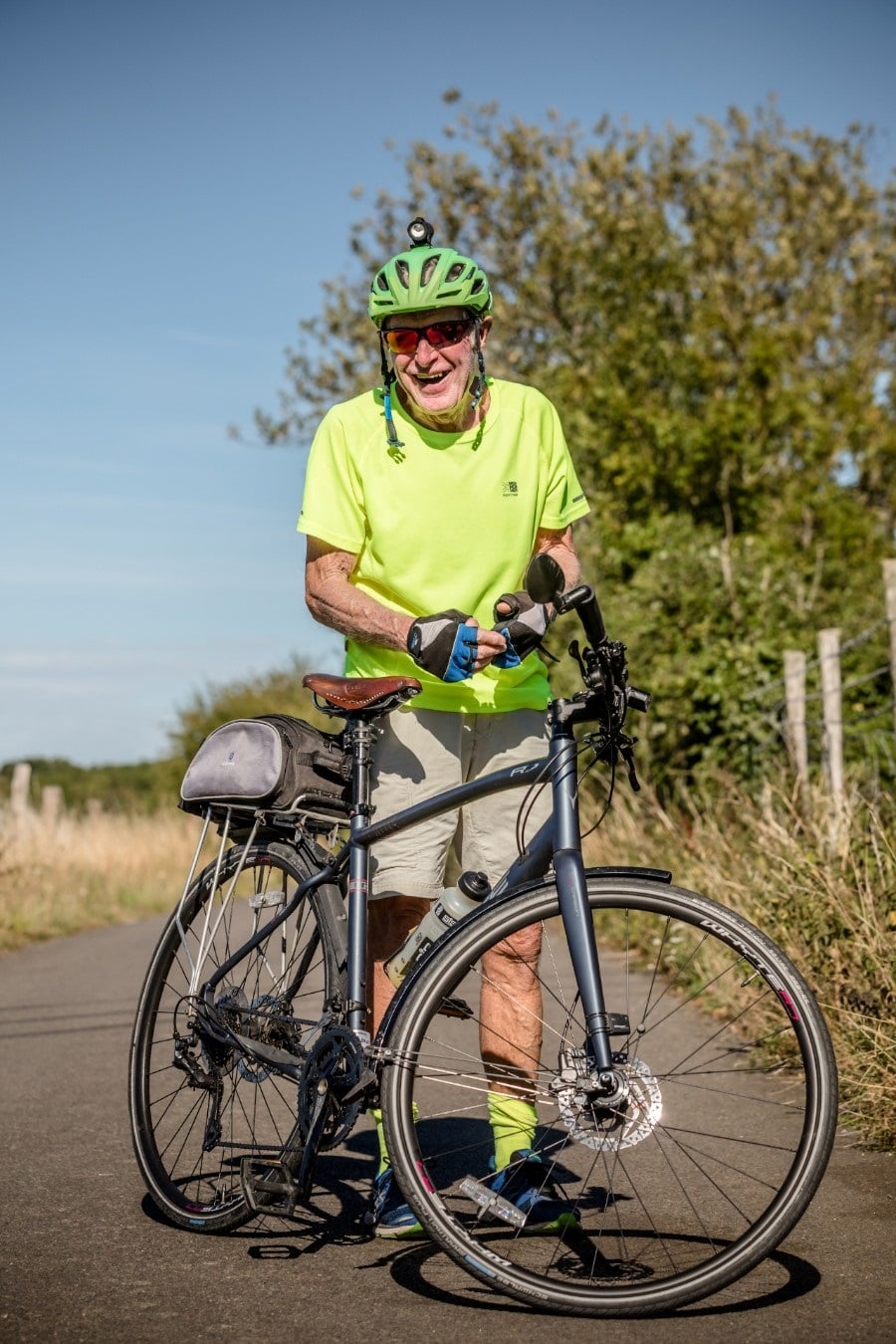 "One of my reasons for supporting Pilgrims Hospices is for the fantastic treatment my father-in-law was given in the Canterbury hospice where he passed away with motor neurone. Our family were so relieved to see how his last days were made as comfortable as possible, we cannot thank you enough."
Fuelled largely by flapjack to counter the 6,000 calorie burn, the 73-year-old left Canterbury East train station at 7.45am. Stowting Hill and the climb out of Shepherdswell near Dover were the biggest spikes on his Fitbit and the heatwave added to his challenge. Paul finished the circular course at 4.15pm, at his finish line he was greeted with surprise smiles, cheers and a balloon arch held up by the little members of his family.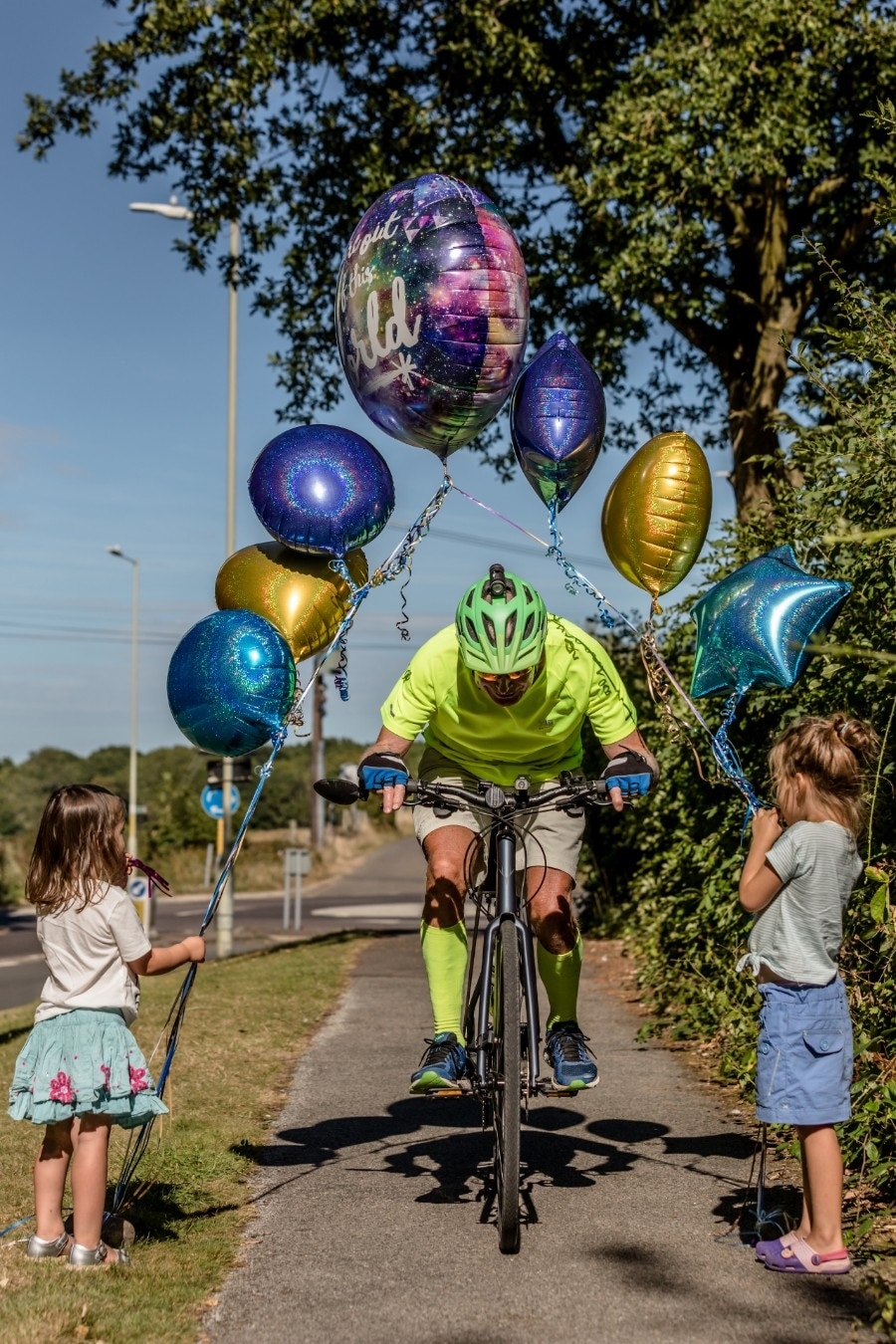 Paul has raised an incredible £1,700 for local hospice care and has more to gather in.
Fundraising Manager, Kate Duddell said: "We would like to thank all those who have supported Paul in raising an impressive £1,700 for end of life care in east Kent. The amount raised for hospice care is so valuable and will allow us to provide the best possible support to families who need us. Every £25 would pay for an hour of nursing care. The funds raised by Paul and his loved ones are vital to the work Pilgrims Hospices does across east Kent and is continuing to do so during the pandemic."
Paul was aiming for this to be his last Pilgrims Cycle Challenge, however he loves a challenge, and a little adventure and may be tempted to join the new 30 mile route in 2021. For this year, and now he has completed his own pedalling challenge for Pilgrims, he is looking forward to becoming a grandad for the first time and walking his daughter down the aisle this September.
You can still support Paul and his 100 mile achievement by donating to his JustGiving page.
---
Each year Pilgrims Hospices give care and comfort to over 2,500 people in east Kent who are coming to terms with an illness that sadly cannot be cured.  The charity support patients to live life as well as possible until the very end, free from pain and distress.