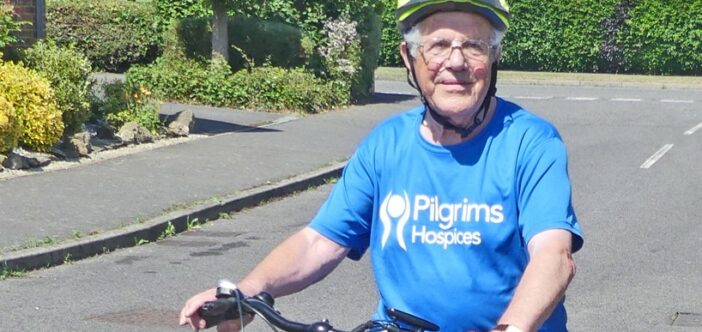 Cycling enthusiast and dedicated Pilgrims Hospices supporter Peter Brun, took his lockdown daily exercise allowance to a different level to help raise funds for his local hospice charity.  Peter who is 80 years old, has been cycling the lanes around his home in Hawkinge to reach a distance of 317 miles;  the distance between his home and Barnard Castle in Durham.  His tongue in cheek play on this much published journey has helped him to raise £500 for hospice care.
Peter smiled and told us: "I've actually cycled 417 miles; I decided to do a little sight-seeing along my way too.  Some blue-bell woods, local landmarks and beauty spots have made my journey very rewarding.
"I wanted to do something really positive with my daily exercise during these challenging times. My aim to cover the Barnard Castle mileage and get the rides sponsored for an organisation who's fundraising has been hit by the pandemic, seemed like an excellent way to support them.
"I often went out with a camera and captured our wonderful countryside in its glory.  Cycling during the lockdown has been very pleasant, the roads were less busy which has allowed walkers and cyclist to enjoy the lanes so much more than in 'normal' times. It was good to be reminded of what a beautiful area we live in."
I wanted to do something really positive with my daily exercise during these challenging times.

Peter
The rides were not all trouble free;  his bike suffered some slow punctures along the way but nothing that kept him for continuing his journeys.
Peter added: "Thank goodness for internet shopping which enabled me to replenish cycle repair kits and to obtain tyre liners to reduce the chance of puncturing.   But more importantly, thank you to those who have made a donation to Pilgrims Hospices.  I have enjoyed my rides and if you would like to make a donation to my Just Giving page, that would be wonderful too."
Peter had been waiting for surgery which was postponed due to the COVID-19 lockdown,  his cycling helped him to stay fit and well enough to be re-assessed, and he will have knee replacement surgery quite soon.  We wish Peter a speedy recovery.
---
Care is provided from three hospice sites in Ashford, Canterbury and Thanet as well as in patients' own homes.  To offer these services to patients and their families the charity must raise £11 million each year from the generous local community.