Penelope shines bright for Granddad Mick and Pilgrims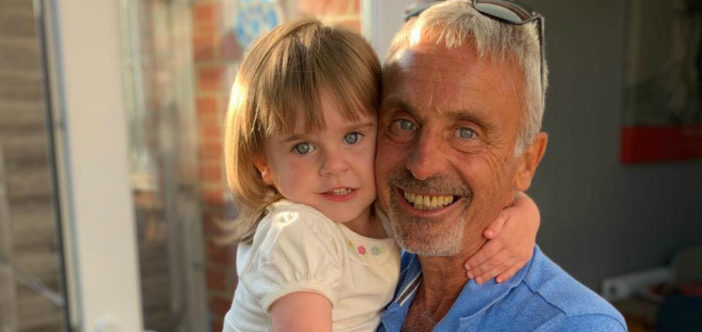 3-year-old Penelope Kerr from Ashford will shine bright on Friday 20 September when she takes part in a sponsored night-time walk for Pilgrims Hospices. She will walk for her granddad, Mick Lodge (61), who is receiving care from the local hospice charity.
---
Penelope has already raised £980 for Pilgrims via her JustGiving page. She was inspired to fundraise after her mum Joanne completed a Firewalk for the charity at the Ashford hospice in March 2019, raising £335 along the way. Joanne said: "Penelope and her "DamDam" came to watch and she really enjoyed it, she loved the atmosphere. So when I saw the A Night to Shine walk I asked her if she would like to do it, and she said yes and that she would walk for her DamDam.
"Penny's daddy and I will be walking alongside her but this is her challenge and we couldn't be prouder. At 3 years old she is the most caring, loving and hilarious little girl who loves her DamDam to the moon and back. She's raised so much already and the sponsors keep on coming in. We are so proud of our daughter and cannot wait to see her shine on the night."
Mick was diagnosed with lung and oesophageal cancer in November 2017; chemotherapy and radiotherapy treatment has given him a good quality of life and enabled him to enjoy holidays, days out and spending time with Penelope, but recently he has needed support from the hospice. The family are so grateful for the care they are receiving and are keen to give back.
Joanne added: "Dad is receiving regular check-ins from Pilgrims, usually advice and support over the phone. His nurse Rhiannon has been absolutely amazing and we are so thankful for her. She came round recently for a little catch up and a chat.
"We were informed that Dad is looking at six months or less now, so we know we will be needing the hospice a lot more in the future as that is where he wishes to spend his last days. We know how important the hospice is for patients and families, so we just want to give back whatever we can as we know we are going to be using their services a lot. By getting Penelope involved too it will show her that the hospice really is a wonderful place."
You can sponsor Penelope by visiting her JustGiving page.
If you're feeling inspired and would like to follow in Penelope's footsteps, sign up now for A Night to Shine in Ashford, Broadstairs or Canterbury. Entry is £15 for adults and £12 for under 18s until 15 September 2019. Under 3s go free. Entry includes a t-shirt and finisher's medal.
---
If you or someone you know is coping with a life limiting illness and you think you may benefit from Pilgrims free services, talk to your GP or Healthcare Professional about your options or click here to read about our Wellbeing Programme.