Therapy dogs make a welcome return to Pilgrims Hospices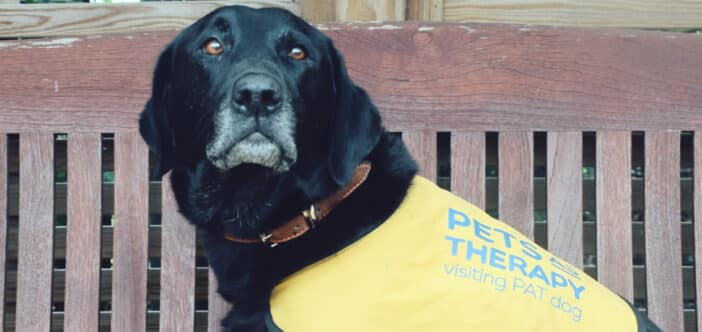 Pets As Therapy (PAT) dogs are a vital part of Pilgrims Hospices' wellbeing programme. Specially trained to remain calm and gentle when interacting with people, they make perfect visitors for patients and loved ones who are spending time in the hospices.
In September 2022, PAT dogs made a welcome return to Pilgrims after a two-year hiatus, having been unable to visit during the COVID-19 pandemic. Patients, staff and volunteers alike are truly grateful to have them back.
---
PAT animals provide companionship to thousands of people in settings across the UK, including hospices, hospitals, care homes, schools and prisons. They help to reduce anxiety and offer a pleasant distraction from the things that may be happening around them.
Rodney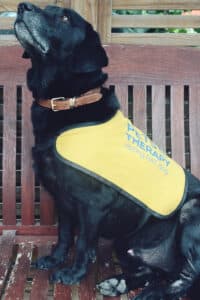 Martyn Ponting from Sellindge brings his black labrador, Rodney (7), to the Ashford hospice. Rodney's soothing presence is much-appreciated by everyone they've met since they started volunteering in 2017.
Martyn came across PAT animals when he worked in the pharmaceutical industry and regularly visited hospitals. He said: "I decided that when I retired, I wanted to get involved. We love coming to the hospice; Rodney puts smiles on everyone's faces, even when they're really poorly. Most patients want to see him, and the staff love him, too. He cheers everyone up.
"He's just a normal dog at home, but at the hospice he senses the mood and immediately calms down. On our first day back since COVID, we visited a patient who was very near the end of life. We didn't stay with her for long, but afterwards a nurse told me it was the first time they'd seen that patient smile. Rodney is also great for visitors, helping to break the ice and providing a different focal point at an otherwise difficult time."
Rodney is such a well-loved and vital part of the Pilgrims' team that he even has his photo up next to the consultants on the staff board.
Martyn added: "He has a gift for it, but he's often a little tired afterwards because he takes on peoples' moods – but perhaps in doing that, he lifts a small weight from their shoulders, so it's all worthwhile. And he soon bounces back!"
Aston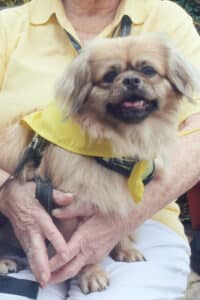 Linda Wolek-Went and her husband, Mike Went, from Seasalter visit the Canterbury hospice with their Tibetan Spaniel, Aston (4).
Linda first volunteered for 15 months with their dog Bobby, who has now sadly died. After COVID dashed their round-the-world adventure plans, they returned to east Kent and decided to take on more rescue dogs. Aston and his brother, Martin (2), were rescued from Hungary, and Martin is currently in training to join the PAT dog team.
Linda was a volunteer receptionist at the Canterbury hospice for many years, and a schoolfriend of hers was cared for by Pilgrims, so she has seen first-hand what a difference the charity makes.
She said: "The comfort PAT dogs give to people is so uplifting and worthwhile. It's a big commitment, but we're retired and it's a lovely way to spend our time.
"When Aston and I arrive at the hospice, we say hello to staff, volunteers and visitors in reception; they get as much enjoyment from it as the patients. Then, we go on the ward. All the patients love seeing Aston; even if they're not feeling well, they still enjoy spending time with him."
Wendy Kelk, Hospice Services Manager, said: "The team were filled with excitement, and some relief, when I announced the PAT dogs were returning to sites after COVID put their visits on hold.
"When the dogs are on site, the whole mood lifts; patients, visitors, volunteers and staff are smiling and requesting to see the dogs. They are very much a vital part of our team. Thank you so much to the dedicated owners for their time, hard work and willingness to return."
We are delighted to welcome Rodney, Aston and their owners back to Pilgrims. We're in the process of recruiting a PAT dog for our Thanet hospice, so that patients and visitors on all three sites can enjoy the same therapeutic benefits that PAT dogs bring.
To find out more about the Wellbeing services offered at Pilgrims, visit:
pilgrimshospices.org/wellbeing
Hospice Care Week is an annual event where we recognise and celebrate Hospice UK and hospice care nationwide. It's an opportunity to show the world the value of support, of care and of what matters to us as individuals at the end of life when we need it most.
---
Pilgrims Hospices cares for thousands of local people each year, free of charge, during the most challenging time in their lives. They offer care and support in people

'

s own homes, in the community and in their inpatient units as well as running a 24-hour advice line.