Pilgrims Cycle Challenge is a runaway success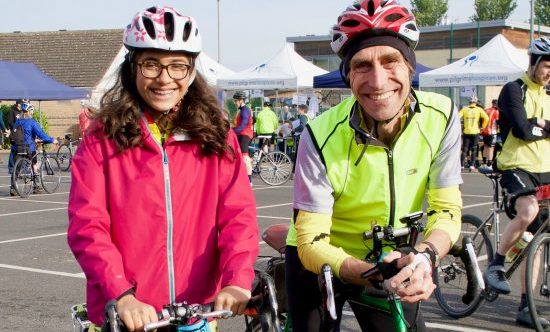 They battled a blustery cross-wind and took on climbs totalling over 4,000 ft. Between them, they racked up a combined distance of more than 60,000 miles. By all accounts, the 1,217 riders at this year's Pilgrims Hospices Cycle Challenge really can call themselves hospice heroes.
Riders travelled from as close as Canterbury and as far as London and Warwickshire, and the total number of riders is up increased since last year. For the eighth year of this well-respected ride, they gathered for the start at a new venue – the University of Kent's Cycling Hub in Canterbury. Soon after, Kent's roads were buzzing with the sound of their speeding spokes. Streams of riders of all ages – from 14-81 years – and abilities pedalled their way to personal achievements on a choice of three routes, varying from 45 miles, 75 miles and right up to the most extreme route, the 100-mile Century ride.
Pilgrims is now counting all of the sponsorship donations which will continue to come in over the coming weeks. First indications show the event has already raised over £55,000 and that total could be set to rise to more than £90,000 for Pilgrims care in east Kent. Look out for updates in the coming weeks on the Pilgrims website.
Cate Russell, Pilgrims Chief Executive, was there on the day welcoming riders back to the cycling village finish. She was joined by an army of local volunteers serving food, offering free sports massages and even leading cycling yoga classes.
Cate said: "It's quite incredible to see what amazing support we've had from the local community for this event. These hospice heroes have cycled an astounding 500,000 miles since the first hospice Cycle Challenge! We can only humbly thank everyone who contributes to this event in so many ways, and whose support means we can continue to be there with care and comfort for the people who need our care."
Event Fundraiser at Pilgrims, Robert Grew, said: "We were really delighted to see so many cyclists enjoying our event. A huge team of hospice staff and more than 50 volunteers were involved in making the event run smoothly and providing the best experience possible for our cycling supporters.
"Support provided by our sponsors, and especially our headline sponsors Kent Sport, has also been absolutely brilliant. We couldn't ask for better event support and venue facilities. Everyone really went out of their way to help make the day the success it was."
One young man, among the last to cross the finish line after taking on his first 100-mile ride, was tracked by marshals on his way back who fed him jelly beans and gave him support to keep going so he could succeed in his challenge.
Riders were supported with motorbike marshals, lots of signs and regular refreshment stops along the way. When they returned, they enjoyed free massages to ease aching muscles and bike maintenance. There were also plenty of supporters to cheer them along. More than £1,000 worth of food and refreshments for riders was donated by local suppliers.
This year, financial support came from several sponsors:
Liz Docherty from Deal and Walmer Wheelers said: "It's our second year taking part and it's been a really enjoyable ride. It's well organised and for a great cause. We liked the new start and finish venue, too. It gave us more space when riding and the cycling village had plenty of treats like massages and the barbeque. It's been a really good day."
Anne-Marie Awe from Ashford took on the 45-mile route. It was her first time taking part and she was cycling alone: "My mum died of cancer so it means a lot to me to support others coping with a terminal illness. I'm new to cycling so I've been feeling really nervous in the lead up to today, but at the same time I couldn't wait to get going.
"So far I've raised £340 in sponsorship – well over my £100 target – with lots of warm support from my employers and friends and family. I rode alone today and I was worried at first that I would have trouble finding my way but it was so well supported, with all the signs and marshalls on the route. I feel amazing now I've done it!"
A huge Pilgrims thank you to everyone who helps to raise vital funds for us throughout the year.
Each year, Pilgrims give care to thousands of people and their families across east Kent. People with long-term conditions can come to us when they need day-to-day help enabling them to live well. We also offer expert care in people's own homes, in our communities and on our wards. Every act of kindness from our generous communities helps us to give this care where and when it's needed. We are truly grateful for this continued support of our Cycle Challenge, which helps to make all of this possible.
Check out our Facebook gallery for more photos from the day.
If you didn't manage to cycle for Pilgrims on Sunday, you can still join our fun, supportive ladies bike ride Divas on Wheels on 18 June. The county's only ladies bike ride for charity is open for entries now, with 25 and 50-mile routes to choose from. There are planned training rides which you can take advantage of, too. Let's keep up the pedal power for Pilgrims. Find out more.