Spring was in the air for Cycle Challenge on Bank Holiday Sunday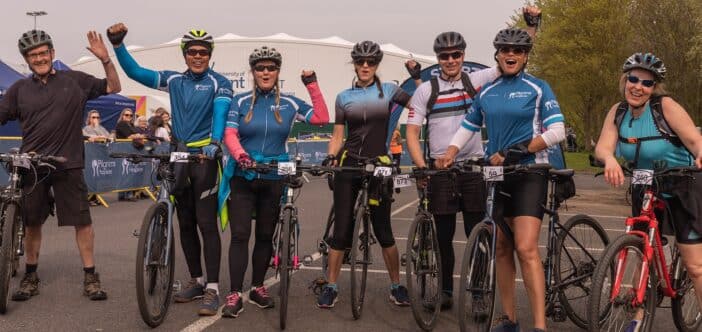 More than

1,000 cyclists

enjoyed a beautiful Spring Bank Holiday Sunday exploring the stunning Kent countryside at the 13th annual Pilgrims Hospices Cycle Challenge.
Riders of all abilities took part, collectively cycling more than

76,000 miles

to support the skilled and compassionate end-of-life care the charity provides across east Kent.
So far this year's event has raised almost

£100,000

; with indications showing the total could reach as much as

£110,000

for Pilgrims, once all donations and Gift Aid are finalised.
---
Individuals, families, friends, cycling clubs, local businesses and services throughout Kent, took on the 30, 50, 75, 100 or 125-mile challenge. Bright skies and dry roads were the perfect conditions for Pilgrims' flagship fundraising event. Ever since the event first took place in 2010, supporters have raised an astonishing £1.2 million pounds to help people who need Pilgrims' care within our community. 
All routes started and finished at Pilgrims Event Village at the University of Kent, near Canterbury. Returning cyclists could enjoy a celebratory atmosphere, sports massage and well-earned refreshments after collecting their commemorative medal.
Robert Grew, Pilgrims event organiser said: "It was brilliant to see such a strong show of support for Pilgrims! We congratulate all the riders in achieving their goals and for their incredible support for the end-of-life care Pilgrims provides.
"It's a privilege to organise the event and, seeing it year after year, I'm always reminded how much of a team effort it is. Our army of volunteers are just outstanding and gave up their bank holiday weekend to help make the whole experience safe and enjoyable for our riders. I can't thank them enough! Nor the waves of cyclists who puff their way around the course in support each year."
"I must also thank Kent Sport, Biketart, Barretts and London Array for their wonderful support for the event, which enables us to maximise the amount of funds we can raise for hospice care."
Check out a selection of event photos on the Pilgrims Hospices Facebook page, or view and download the full set here.

---
Care is provided from three hospice sites in Ashford, Canterbury and Thanet as well as in patients' own homes.

 

To offer these services to patients and their families, the charity must raise £11 million each year from the generous local community.