Supporters hot-foot it for Pilgrims Hospices this bonfire season!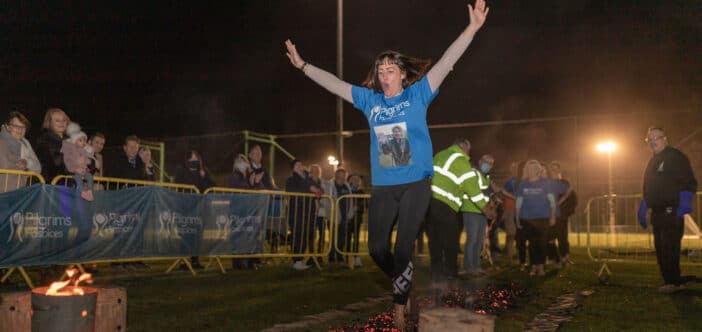 Pilgrims Hospices sponsored Firewalk series returned for its sixth year over the bonfire season and saw almost 90 brave supporters face their fears to conquer the coals. The annual event challenges people to walk barefoot over red-hot wood embers measuring 800 degrees and raise much-needed funds for Pilgrims' specialist, end-of-life care! 
The daring dash took place in three locations across east Kent – in Ashford on 29 October, Canterbury on 30 October and Broadstairs on 6 November – and is expected to raise more than £12,000 for the local hospice charity with more sponsorship to follow.
---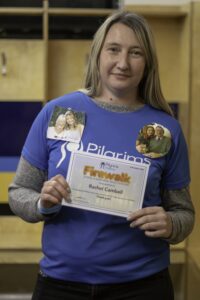 A total of 932 Pilgrims supporters have taken on the 'hottest, shortest sponsored walk in the world' since 2016 to raise a staggering £210,358 for those living with an incurable illness in our community.
Robert Grew, Pilgrims Events Manager, said: "It was fantastic to see so many supporters, quite literally, stepping out of their comfort zone to brave the barefoot firewalk for Pilgrims Hospices. A huge thank you to everyone who joined us and faced their fear to raise vital funds for the care of patients in our local community. You've followed in the toasted footsteps of more than 900 Pilgrims supporters before you and certainly earned your place in the Hall of Flame!"
Motivational speaker and firewalk specialist Cliff Mann, held a training seminar for participants before they stepped out to face the flames.
Cliff said: "Firewalking is a huge personal challenge, I've been teaching people the skills for more than 30 years now.  It's great to be back and empowering Pilgrims supporters to take on the hottest, shortest sponsored walk in the world.  It's always a great pleasure to help charities raise vital funds while helping people to achieve something truly life changing."
Robert added: "We'd like to thank our services team at the Ashford hospice for making it possible to hold our event in the hospice grounds; the University of Kent Sport for hosting us in Canterbury, and our latest venue for Firewalk, Thanet Wanderers Rugby Club at Broadstairs, for making us welcome and giving everyone a very special night to remember.
"Sponsorship money will continue to come in for some time yet, we will be able to announce a final figure around the festive season."
Visit our Facebook page to view photographs from the Firewalk events.
There are some great challenges and events on Pilgrims Hospices website: pilgrimshospices.org/events. Why not take a look and help Pilgrims Hospices reach even more people who need our specialist care?
---
Care is provided from three hospice sites in Ashford, Canterbury and Thanet as well as in patients' own homes.  To offer these services to patients and their families the charity must raise £11 million each year from the generous local community.