Pilgrims helps couple's wedding wish come true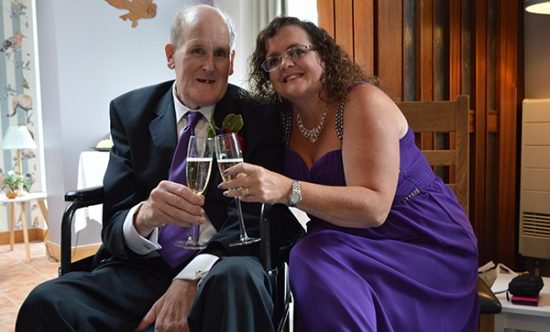 Bob Cook married his fiancé Sue in Pilgrims Hospices Canterbury family room with friends, family and members of Pilgrims staff to share their special day.
The couple from Littlebourne near Canterbury asked Martyn Yates, Spiritual Care and Complementary Therapy Lead at the hospice if he could help to make their wishes come true.
We are delighted to have shared their special day.
Martyn said: "When Bob told us of his wedding wishes, we did our level best to support his plans and were so delighted to have been able to share his special day with his bride Sue.
"Special occasions that support families through difficult times are an important part of our work here at Pilgrims."
Bob and Sue have been a couple for 20 years and had plans to marry before Bob was admitted to the Canterbury hospice for pain management. Sue told us: "We are soul mates. We've been each other's best friend, when we first found out Bob was seriously ill I must admit we thought the worst. The word hospice scared us, we felt like it was the end. But it's given us all the support we need and I cannot thank them enough. I want people to know that although most of us think the hospice is all about dying there's much more to it than that. It's been for us about a build up of support and a network of support that's almost like a little extended family its help us to live and it's given us a security net. Then on our wedding day the was so much love in the room."
Each year Pilgrims Hospices give care and comfort to over 2,300 people in East Kent coming to terms with an illness that sadly cannot be cured. The charity support patients to live life as well as possible until the very end, free from pain and distress.
As well as the high quality care we offer on our three wards, we also support people in the community, in their own homes and through our Wellbeing and Social Programme at Pilgrims Therapy Centres.  Click here for more information on patient care.