A big Pilgrims Hospices thank you to the The Hospital Saturday Fund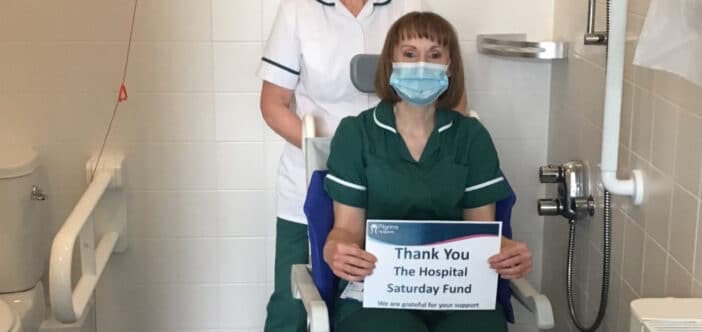 At its heart, Pilgrims Hospices is dedicated to ensuring people living with a terminal illness can access the quality care and comfort they deserve, so it is with deep gratitude that we have been awarded another amazing grant from The Hospital Saturday Fund, which has been used to purchase an Ocean VIP Shower Chair for use on the inpatient unit at Pilgrims Hospice Thanet.

 
---
To manage many of the symptoms of an incurable disease, Pilgrims aims to be able to provide the best equipment to its patients. We need to guarantee that our patients' care and comfort is uppermost. This is one of the main costs associated with our work; as specialist equipment is expensive to purchase and is well-used.
This vital piece of equipment is already being used on a regular basis to move our patients safely from their beds to the toilet/shower with extra gentle care and dignity. The shower chair is also helping to reduce physical strain on the clinical teams' necks and backs when moving patients.
We're so grateful to The Hospital Saturday Fund for choosing to support Pilgrims Hospices once again, and helping to ensure we remain here for our patients and their families, now and in the future. Together, we make a difference.
Thank you!
Pictured below: Occupational therapists from Pilgrims Hospice Thanet with the new shower chair
---
Each year, Pilgrims Hospices give care and comfort to thousands of people in east Kent who are coming to terms with an illness that sadly cannot be cured. The charity support patients to live life as well as possible until the very end, free from pain and distress.