Pilgrims Hospices make patient's wedding wish come true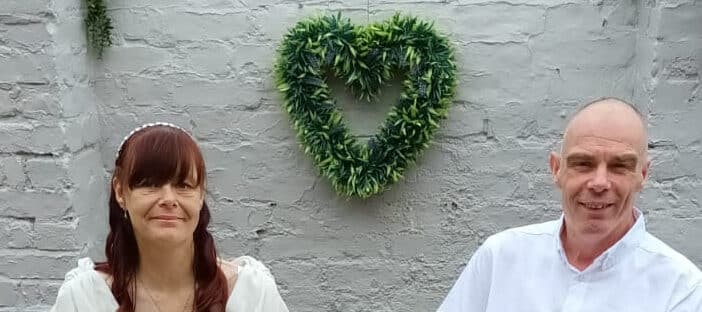 Elaine and Jason Edwards, a former carpenter, from Herne Bay were married in a civil ceremony at Jason's flat on Saturday 30 July 2022. This was an extra special occasion, as Jason has motor neurone disease (MND) and is receiving support from Pilgrims Hospices.
The charity helped to make their big day possible, enabling them to create beautiful memories that will last forever.
---
The family is incredibly grateful for Pilgrims' care, which frequently extends beyond its physical hospices and into the wider east Kent community.
Martyn Yates, Spiritual Care Lead and Complementary Therapist at Pilgrims, was integral in organising Elaine and Jason's marriage.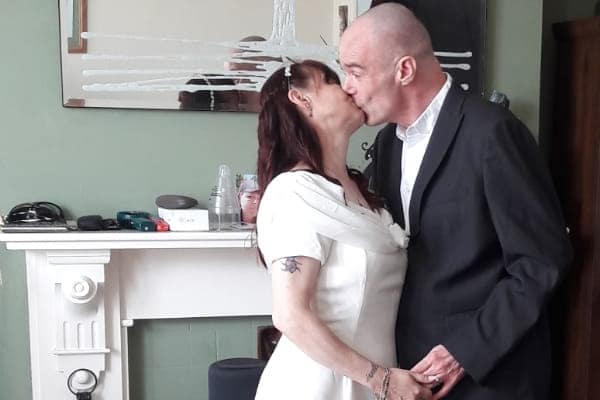 Elaine said: "Our experience with Pilgrims Hospices has been totally amazing. We had Martyn come out and see us from the spiritual care team, to help us with getting married. He was amazing. He was very informative, and due to all his help, we were married at home in Jason's flat with a few family members and very close friends in attendance.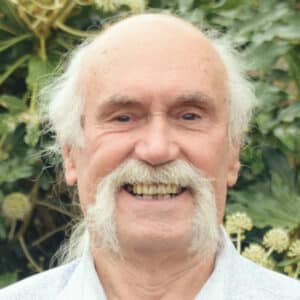 "Pilgrims gives us as a family help and support in ways we never imagined possible. They are on hand for help and advice 24 hours a day; it gives us peace of mind knowing that they are there throughout this hard time in our lives. It means so much to us that they are here for us. They do an amazing job, and we can't thank them enough for all they do."
Martyn added: "One of the really important parts of the work we do at Pilgrims is to make every day as good as it can be for both our patients and their families – so they can live their lives to the full. Our links with community agencies help us to do this; in this case, the Canterbury registrars pulled out all the stops, and between us we were able to achieve Elaine and Jason's wishes. It is so lovely to be able to do things like this for our patients and their families."
---
Pilgrims Hospices cares for thousands of local people each year, free of charge, during the most challenging time in their lives. They offer care and support in people's own homes, in the community and in their inpatient units as well as running a 24-hour advice line.