Shop Pilgrims Hospices affordable pre-loved clothing – Shop kilo!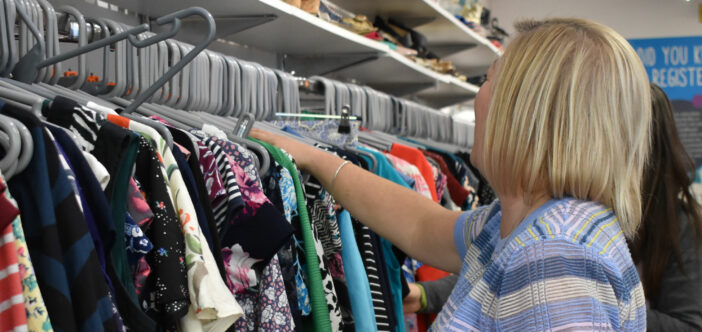 Are you interested in sustainable clothing purchases? Do you love to search for that special pre-loved item in your local charity shop?
Do you think about how much high quality clothing goes to waste, landfill or lays unloved in someone's wardrobe?
You will love Pilgrims Hospices pop-up kilo event on Saturday 28 May 2022 at St Peter's Methodist Church Hall in Canterbury.
---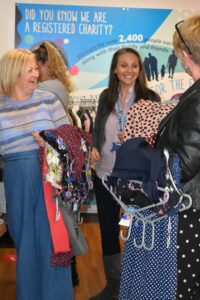 For those who've not had the experience of perusing the rails for vintage or retro clothing, pre-loved high street and some designer items, this is an awesome event not to be missed, the doors open at 10am. For just £5 per kilo, you can seek out a completely new style or find some items that will give your current wardrobe a new lease of life or a new twist in your styling.
Mandy Hawkett, Pilgrims Retail Area Manager said: "We're very excited to bring our first ever Kilo Sale to shoppers in the Canterbury area. We are providing the bags, all customers need to do is pick their items and pop them in the bags for us to weigh. It's only £5 per kilo and you can buy as much as you like on the day. We will have a huge variety of stock, so there's definitely something for everyone."
There won't be changing facilities available at the venue, therefore taking a tape measure to check sizing would be something to think about on the day. Shoppers can pay by cash or card at the event and there will be a pop-up cafe for light refreshments too.
Mandy added: "Pilgrims charity shops are an important part of the community, providing local employment, productive volunteering opportunities to a range of age groups and stability to ailing high streets. The environmental benefits through the re-use and re-purposing of pre-loved items are hugely important. And… apart from all of these reasons, we all love to seek out that very special item at a very special price."
Whether it's a gentleman's jacket, some new work gear, a branded t-shirt or something for a special occasion, we will do our best to help you find the perfect items to suit your needs.
St Peter's Methodist Hall is on St Peter's Street, Canterbury CT1 2BE, look out for the Kilo Sale banners outside, the event runs from 10am to 4pm.
All the money raised from the sale will help to run Pilgrims Hospices services in Canterbury, Ashford and Thanet along with supporting people to live well in their own homes.
Please come along, it's free to come in and you are sure to find something special for you or someone in your family.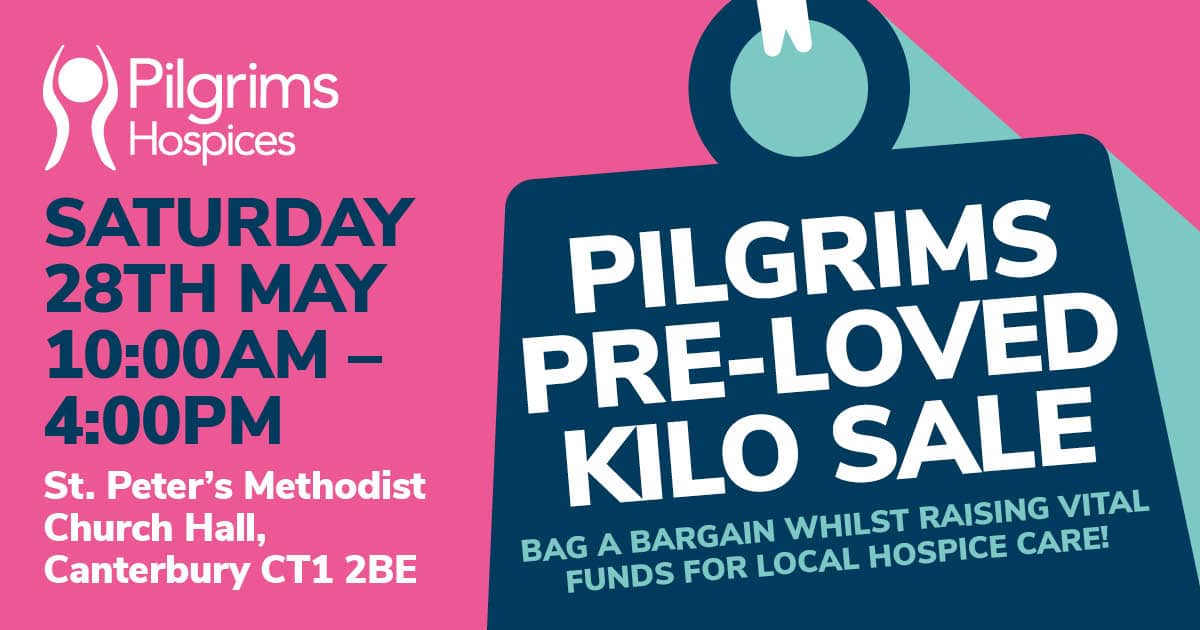 ---
Each year Pilgrims Hospices give care and comfort to over 2,500 people in east Kent who are coming to terms with an illness that sadly cannot be cured.  The charity support patients to live life as well as possible until the very end, free from pain and distress.