Pilgrims shop manager nominated as Faversham Hero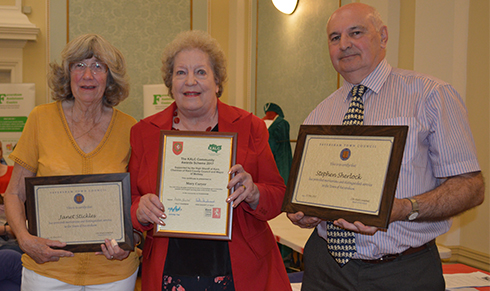 Janet Stickells from Faversham was nominated for a Kent Association of Local Councils Faversham Hero award. Her fellow workers at Pilgrims retail store on West Street nominated their colleague for her commitment and dedication as a volunteer to the Pilgrims shop over many years.
Janet was one of three finalists who were invited by The Mayor Cllr Shiel Campbell to attend the annual town meeting at the Assembly Rooms in Preston Street this week, when the winner would be announced.
Janet told us: "I was quite taken aback when I received the invitation, I had no idea that my colleagues had nominated me, I was very flattered. I'm quite shy so felt rather unsure if I would be too embarrassed to go along.
"I'm so delighted I did, it was a lovely evening shared with great friends and colleagues, thank you everyone who nominated me and came along to support me."
The Pilgrims Faversham shop team brought along a magnificent array of gift items from the store that could be purchased by visitors at the event. Bev Newton, Pilgrims General Retail Manager said: "We are extremely proud of Janet for reaching the final three of the Faversham Hero awards. We think she's a hero everyday. Running a charity shop, ensuring our goods are displayed well, supervising and training our volunteers is a huge task."
The volunteer finalists with Janet were Mary Caryer, Arden Theatre and Stephen Sherlock, Faversham Christmas Lights with the winning award going to Mary from the Arden Theatre.
Volunteers are a vital resource for Pilgrims not only within the retail stores but within the hospice receptions, administrative support, flower arranging and supporting our staff at fundraising events just to name a few. There are so many ways you can help to support Pilgrims Hospices by volunteering. You find out more by visiting volunteering opportunities.
If you or someone you know is coping with a life limiting illness and you think you may benefit from Pilgrims support, talk to your GP or Healthcare Professional about the options or visit Pilgrims Hospices Wellbeing and Social Programme.