Pilgrims Therapy Centre share royal wedding celebrations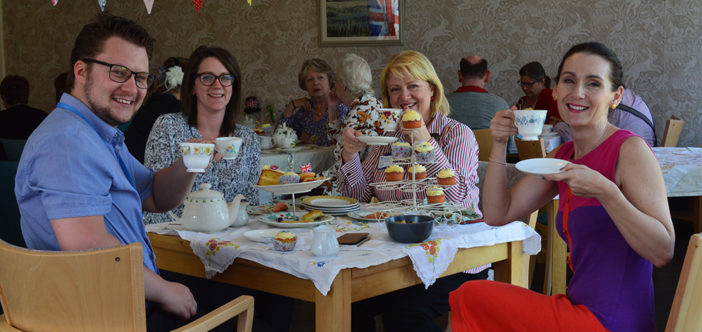 No royal wedding celebration would be complete without tea and cake at Pilgrims Hospices.
On Tuesday the hospice in Canterbury gave a warm welcome to patients, staff and volunteers in advance of the royal wedding ceremony of Prince Harry and Megan on Saturday 17 May.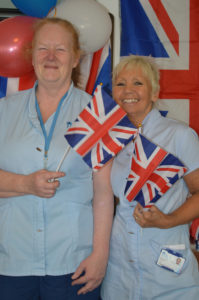 Pilgrims Associate Practitioners, Jenny Aylward, Sian Webb, Kelly Richard and Kathleen Steele opened the Wellbeing and Therapy Centre for visitors to enjoy afternoon tea and entertainment from volunteer supporters Alice and Andrew Mussett.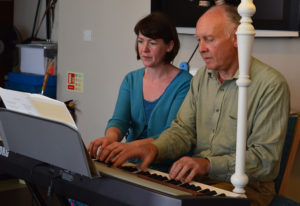 A delicious selection of cakes and pastries were baked by staff and volunteers, Pilgrims catering team supported with party sandwich platters.
Jenny said: "Prince Harry and Meghan will marry on Saturday; we agreed it would be lovely to share a celebration with our Therapy Centre users and friends, it's a great reason for getting together with tea and cake in a relaxed and informal environment.
"I would like to send a huge thank you to the staff, volunteers and Butterfly Garden Tea Parties for all of the generous contributions that made the afternoon tea really special."
Visitors were able to meet the royals in knitted format when they arrived.  Jenny had been busy knitting a full complement of royals including some of the Queens corgis bringing a smile to the face of everyone.  She said: "It's so nice to make people smile, I think everyone enjoyed a little giggle, especially at all the individual details that each member of the royal family had been given."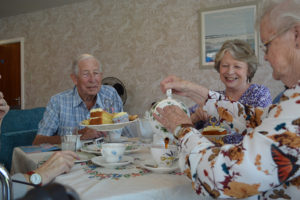 Pilgrims run a wide range of support groups and activities for patients and families in order to enhance wellbeing in mind and body.  The social events give service users opportunities to meet and connect with other patients and gain an understanding of the full range of services available. The groups always take place in a warm and inviting social setting."
Cate Russell, Pilgrims Chief Executive joined the celebration and said: "Not only were we celebrating the forthcoming royal wedding, it was lovely for some of our non-clinical staff to share time with patients on the ward and those who use our Therapy Centre services.  It's also really important for our carers, friends and families to feel supported and to have the opportunity to network with people in similar situations.
"Traditional tea and cake how delightful, we hope Prince Harry and Megan have a wonderful wedding celebration."
---
If you or someone you know is coping with a life limiting illness and you think you may benefit from Pilgrims support, talk to your GP or Healthcare Professional about the options or and read about the Wellbeing and Social programme.