Pilgrims therapy sessions are making a huge difference for Edgar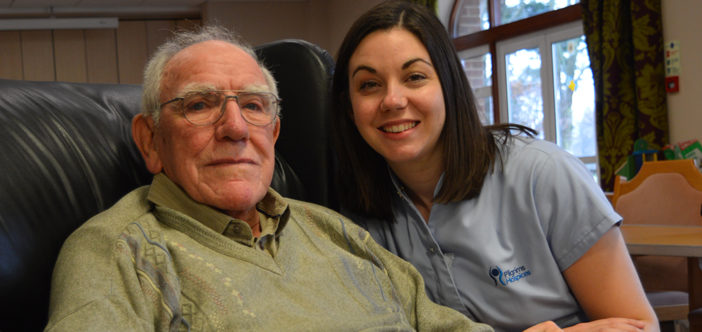 Edgar Evans is 91-years-old, he regularly attends Pilgrims Hospices Therapy Centre in Ashford not only to help him maintain his fitness and independence but to join with others and try activities that interest him and keep his mind and body active. Every visit is an opportunity to engage in a friendly and welcoming environment with people who are also managing life-limiting symptoms and conditions.
---
Edgar's story
My first experience of Pilgrims Hospices came in 2017 when my wife Edna was cared for by Pilgrims community care team. After Edna passed away, Pilgrims visited me on several occasions to check on my wellbeing. I can only describe the care we both received as exceptional.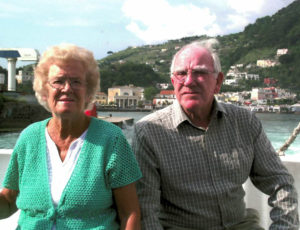 In 2018 I was diagnosed with cardiac and kidney problems myself. Upon my return home from the hospital, Pilgrims made contact to discuss the support they could offer and shared a number of options available within their Therapy Centres.
At first, I admit I felt dubious and a little anxious about attending the hospice, however, I agreed to 'give it a go'.
The whole experience was wonderful. I was collected from my home in Hythe by a Pilgrims volunteer driver and greeted by nurses at the Ashford hospice. I was escorted to a lovely comfortable day room, which I can only describe as being like a top-class hotel. After introductions to the warm and friendly staff and others attending the therapy sessions, we were offered refreshments and a chance to get to know one another. I felt welcome and comfortable straight away.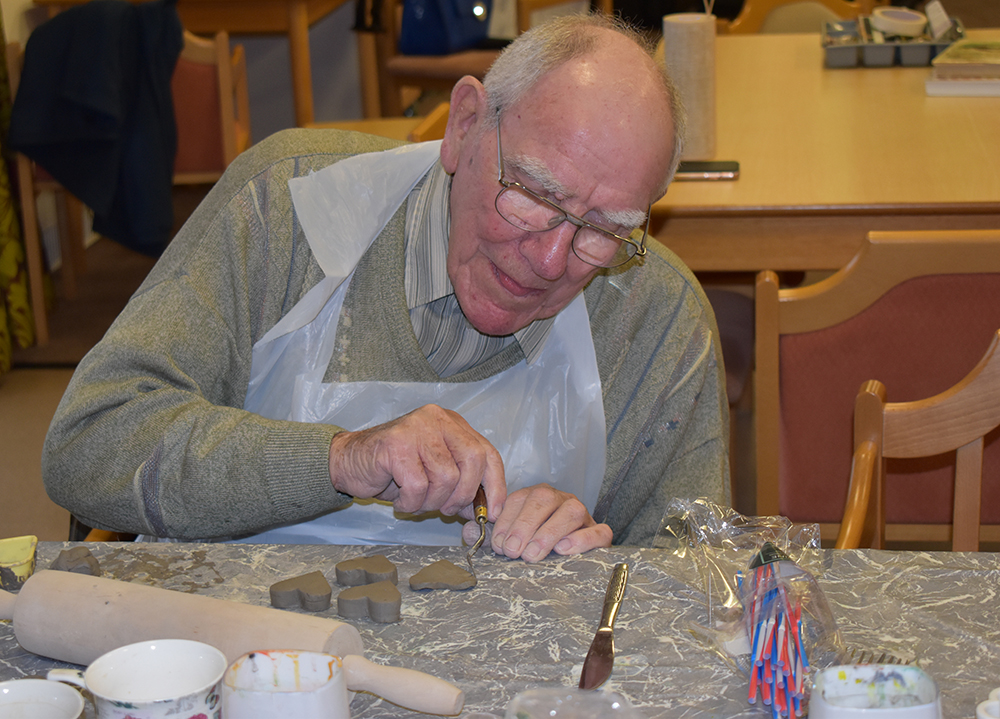 I've been able to try a number of activities that I really never thought would be of interest to me. It's given me new skills and helps me keep my mind and body active. I've tried sugar icing on cakes, painting, Christmas decorations, crafts and flower arranging to name but a few.
The massage, gym sessions and sit down and get fit classes have helped with aches and pains and given me the confidence to exercise and maintain my fitness.
It's been nice to share some of Pilgrims' kindness with my family, Pilgrims invited them to enjoy a pamper day with me, which helped them to understand the benefit of my time spent at the hospice.
It's definitely the highlight of my week, being with the care team who really understand my needs and talking to people who are also dealing with similar conditions and symptoms helps me to speak with confidence about my needs in a relaxed atmosphere.
I'm always treated to a tasty lunch and the staff provide therapy, care, and kindness in abundance.
If you are offered an opportunity to take advantage of a Pilgrims Therapy Centre, please do say yes, you will definitely find benefits within the warmth of the hospice team and develop new friendships along the way.
---
If you or someone you know is coping with a life-limiting illness and you think you may benefit from Pilgrims support, talk to your GP or Healthcare Professional about the options or click here for information on the Wellbeing and Social Programme.