#PilgrimsLife: Green-fingered Jan is 'gardening for Sue'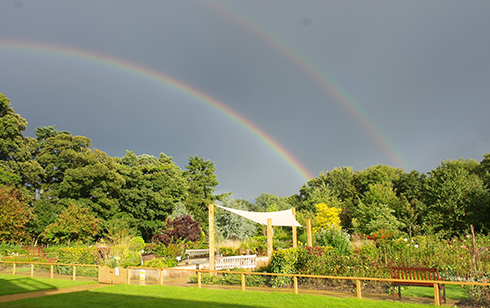 Meet Jan Wear, who started volunteering after her friend Sue was cared for by Pilgrims Hospices and says she gets a huge amount out of it.
Jan is one of thousands of Pilgrims volunteers who support every aspect of the charity's work to make a difference for local families.
My friend Sue received excellent end of life care by Pilgrims Hospices. She was a keen gardener like myself and found comfort in being able to spend her final days surrounded by family and friends in the beautiful surroundings of the Canterbury Hospice.
It feels good to help make others' lives better.
Her husband asked for donations to be given to Pilgrims Hospices. It was while handing in my donation at the Ashford hospice that I saw that they needed volunteer gardeners. Becoming one was my way of honouring Sue's memory.
Nine years on I am still here, gardening for Sue, and for my family and other friends as well. It feels good to help make others' lives and deaths more bearable by being able to experience such a lovely space.
I get so much out of it for myself too, mentally, physically, emotionally, and socially. We have a great gardening team here in Ashford. We work in all weathers, get dirty, tired, pricked and stung, but also laugh a lot, and eat a lot of biscuits with our tea.
Every hour and every minute of volunteering for Pilgrims Hospices is hugely valued and goes a long way for the people needing our care.
Our volunteers play a part in every aspect of life in our hospices. They offer support, skills, kindness and care. They raise money, and can be a friendly face helping in our shops or working on our receptions. By generously giving their time, volunteers support our staff as they work to provide the outstanding levels of care for which we are well known.
If reading about Pilgrims huge community of volunteers has inspired, find out more about our current volunteering opportunities. You can also download our fundraising pack here.
If you're already volunteering for Pilgrims, share your story with us on Twitter using the hashtag #PilgrimsLife.
Together we can make a difference for the thousands of people who depend on Pilgrims services across east Kent every day of the year.
Volunteers' Week is an annual celebration of the fantastic contribution of the millions of people who volunteer in their communities across the UK. This year it's taking place from 1-7 June.