#PilgrimsLife: From soapboxes to shredding, Siân 'loves every minute'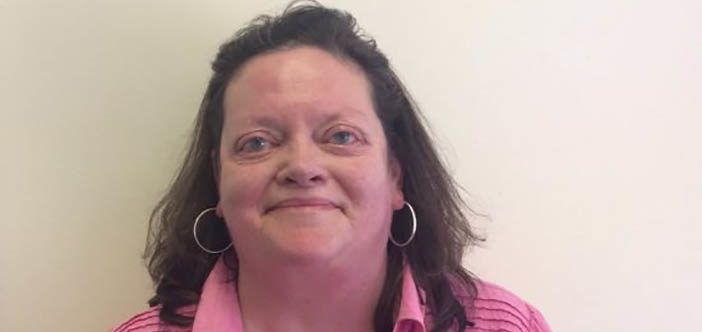 Siân Phelps is Day Services Administration and Fundraising Volunteer for Pilgrims Hospices. She started volunteering in August 2011 on the suggestion of a friend who was already a volunteer. Since then she's been involved in many aspects of Pilgrims work, from helping in Pilgrims Therapy Centres to getting involved with fundraisers, and learning new skills along the way.
My first appearance was at the Aldington Soapbox Derby, an experience in itself! I turned up, not quite knowing what my role would be, and ended up doing something I could not have imagined even a few months earlier: approaching lots of complete strangers, asking them to buy raffle tickets. Much to my surprise I really enjoyed the day. People were friendly and generous, the fundraising team gave great support. I felt I'd already developed a new skill and went home feeling proud of myself. (That was a lovely sunny August day. There was another Derby a few years later when the Pilgrims tombola was drowning under a pop-up tent, people needed welly boots to get out of the car park and we were doing a good trade in 'emergency ponchos'….)
People are friendly and generous, the fundraising team gives great support.
I enjoyed it so I kept coming back. Since then I have sold lots more raffle tickets, helped run tombolas and other stalls, delivered leaflets, collected bottles at supermarkets, marshalled for Pyjama Walks, served refreshments, sung carols round Wye and collected with the Lions Santa Sleigh, oh, and tagged lots of Christmas trees for Tree Recycling. I nearly got lost the first year at Wyevale, as I was wearing a green coat and the trees were a lot taller than me. Then last year had hysterics with my volunteer companions at Perry Court, when I started muttering to the trees and singing 'Whispering Grass'….
Having also said when I joined that I'd be interested in office work, I soon came to assist Anne, the Medical Secretary. I was trained in Infoflex, the patient record database, and went on to add data to the system, produce reports for the clinical staff, send out letters to patients, photocopy and – very importantly – shred things.
We are all here to give a little bit of comfort to every patient and carer.
When Anne retired and the systems changed, I went to support at the Pilgrims Therapy Centre in Ashford with colleagues Annie and Sue. Mainly I enter data onto Infoflex and keep track of statistics, but various other things as they arise. Typing up documents, being part of meetings and taking minutes, helping at events such as open days and singing workshops, covering reception.
A simple but very important thing I do is making tea and coffee for outpatients waiting for appointments or for a lift home. It always amazes me how people are so grateful to be given a cuppa and a friendly word. It's such a simple thing, but that's what we are all here for, to give a little bit of comfort to every patient and carer.
I have found personal benefits from volunteering too. I've done things I'd never done, discovered skills I didn't know I had, met and worked with wonderful people and enjoyed every minute!
Every hour and every minute of volunteering for Pilgrims Hospices is hugely valued and goes a long way for the people needing our care.
Our volunteers play a part in every aspect of life in our hospices. They offer support, skills, kindness and care. They raise money, and can be a friendly face helping in our shops or working on our receptions. By generously giving their time, volunteers support our staff as they work to provide the outstanding levels of care for which we are well known.
If reading about Pilgrims huge community of volunteers has inspired, find out more about our current volunteering opportunities. You can also download our fundraising pack here.
If you're already volunteering for Pilgrims, share your story with us on Twitter using the hashtag #PilgrimsLife.
Together we can make a difference for the thousands of people who depend on Pilgrims services across east Kent every day of the year.
Volunteers' Week is an annual celebration of the fantastic contribution of the millions of people who volunteer in their communities across the UK. This year it's taking place from 1-7 June.