#PilgrimsLife: "Volunteering has made me a completely different person"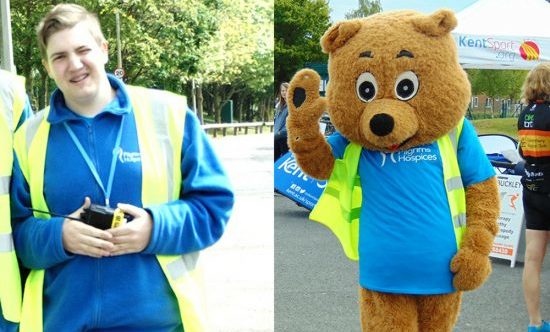 Meet Daniel Baker: he was invited by his neighbours to volunteer at a Pilgrims event and soon became Raffles, the Pilgrims Hospices mascot.
Daniel is one of thousands of Pilgrims volunteers who support every aspect of the charity's work to make a difference for local families.
Here, Daniel shares his volunteering story.
I'd wanted to volunteer for Pilgrims ever since my nan was in their care many years ago. I wanted to give something back for the amazing care they gave her in her final few weeks. I first got involved with volunteering for Pilgrims when my neighbours – Sandra and Martin Cook – asked if I wanted to help at an event. I said I hadn't done anything like that before but would give it a shot. As far as I knew it was just helping out, but Sophie and Deborah from the Pilgrims fundraising team had other ideas; I quickly became Raffles, the Pilgrims Hospices mascot. I didn't see myself being Raffles, I didn't even know Pilgrims had a mascot, but now I'm hooked.
The most positive thing I've learned is that patients don't only go to Pilgrims for end of life care – there is support to live well too.
For me, the most enjoyable thing is seeing all the smiles on the childrens' and adults' faces when they see Raffles at events or in supermarkets. Just hearing them laugh is so rewarding and makes me keep doing what I'm doing.
Volunteering for Pilgrims has made me a completely different person. I used to be a standard teenager just sitting around, but now I want to be out and about. I want to always be helping people.
The most positive thing I've learned from volunteering is that patients don't go to Pilgrims just for end of life care. They often go there for support to live well in mind and body for up to a year before that time.
The most rewarding moment for me is seeing the nurses doing what they do, and seeing the patients laughing and just enjoying themselves. It is truly amazing.
Every hour and every minute of volunteering for Pilgrims Hospices is hugely valued and goes a long way for the people needing our care.
Our volunteers play a part in every aspect of life in our hospices. They offer support, skills, kindness and care. They raise money, and can be a friendly face helping in our shops or working on our receptions. By generously giving their time, volunteers support our staff as they work to provide the outstanding levels of care for which we are well known.
If reading about Pilgrims huge community of volunteers has inspired, find out more about our current volunteering opportunities. You can also download our fundraising pack here.
If you're already volunteering for Pilgrims, share your story with us on Twitter using the hashtag #PilgrimsLife.
Together we can make a difference for the thousands of people who depend on Pilgrims services across east Kent every day of the year.
Volunteers' Week is an annual celebration of the fantastic contribution of the millions of people who volunteer in their communities across the UK. This year it's taking place from 1-7 June.