#PilgrimsLife: 'Volunteering was one of the best decisions in my life'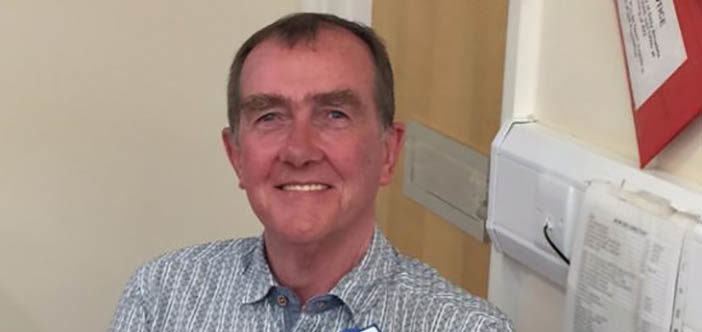 James Miller volunteers on the reception at Pilgrims Hospice in Ashford. Each day he meets the many families, patients, staff and volunteers who make the hospice such a special community.
My name is Jim. Some three years ago I was talking to a friend of mine about finding some sort of employment where I would be able to give something back.
I wanted to help others the way I'd been helped after becoming disabled with arthritis. My friend told me of Pilgrims Hospices where her father had been cared for. She told me that the hospice was a wonderful place that cared for not only the patients, but the families as well.
Every shift I have come in for I have seen how committed everyone at Pilgrims is.
Initially I was a bit apprehensive of the thought of working in a hospice but I decided to apply. I must say now that this decision was probably one of the best decisions I have made in my life.
I volunteer at Pilgrims Hospice Ashford and on each and every shift I have come in for I have seen how committed the staff at Pilgrims are. The care and support they, and the many volunteers, provide together is outstanding. This can be seen really clearly in the way both family and friends of patients who have stayed in the hospice respond following the death of a loved one by wanting to give back in return.
Every hour and every minute of volunteering for Pilgrims Hospices is hugely valued and goes a long way for the people needing our care.
Our volunteers play a part in every aspect of life in our hospices. They offer support, skills, kindness and care. They raise money, and can be a friendly face helping in our shops or working on our receptions. By generously giving their time, volunteers support our staff as they work to provide the outstanding levels of care for which we are well known.
If reading about Pilgrims huge community of volunteers has inspired, find out more about our current volunteering opportunities. You can also download our fundraising pack here.
If you're already volunteering for Pilgrims, share your story with us on Twitter using the hashtag #PilgrimsLife.
Together we can make a difference for the thousands of people who depend on Pilgrims services across east Kent every day of the year.
Volunteers' Week is an annual celebration of the fantastic contribution of the millions of people who volunteer in their communities across the UK. This year it's taking place from 1-7 June.