Keen quilters honour Maureen's memory with unique donation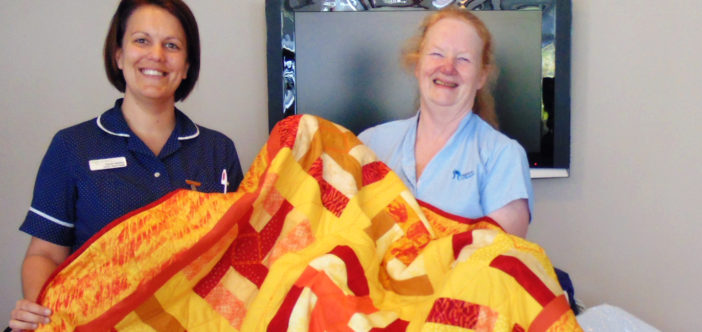 Local quilting groups have donated 20 patchwork quilts to Pilgrims Hospices, helping to ensure that Pilgrims #FeelsLikeHome for patients and their families.
Barn Owl Quilters in Swalecliffe and Oyster Patchers in Whitstable made the joint donation in memory of Maureen Corrigan – a former group member and owner of The Fabric Shop on Harbour Street, Whitstable – who was cared for at Pilgrims Hospice Canterbury in 2017-18.
Maureen's husband, Bob Corrigan, and her niece, Donna Judge, presented the quilts at Pilgrims Hospice Canterbury Therapy Centre on 10 April 2018. They were joined by Maureen's friends and fellow quilters Shirley Emery, Chris Tumber and Joan Hinns, who is also the founder of Barn Owl Quilters and ran it for 20 years.
It was one of Maureen's final wishes that the clubs made patchwork quilts and donated them to Pilgrims. Over the years, Maureen herself made and donated quilts for Pilgrims; to date, the clubs have donated 70 quilts in total.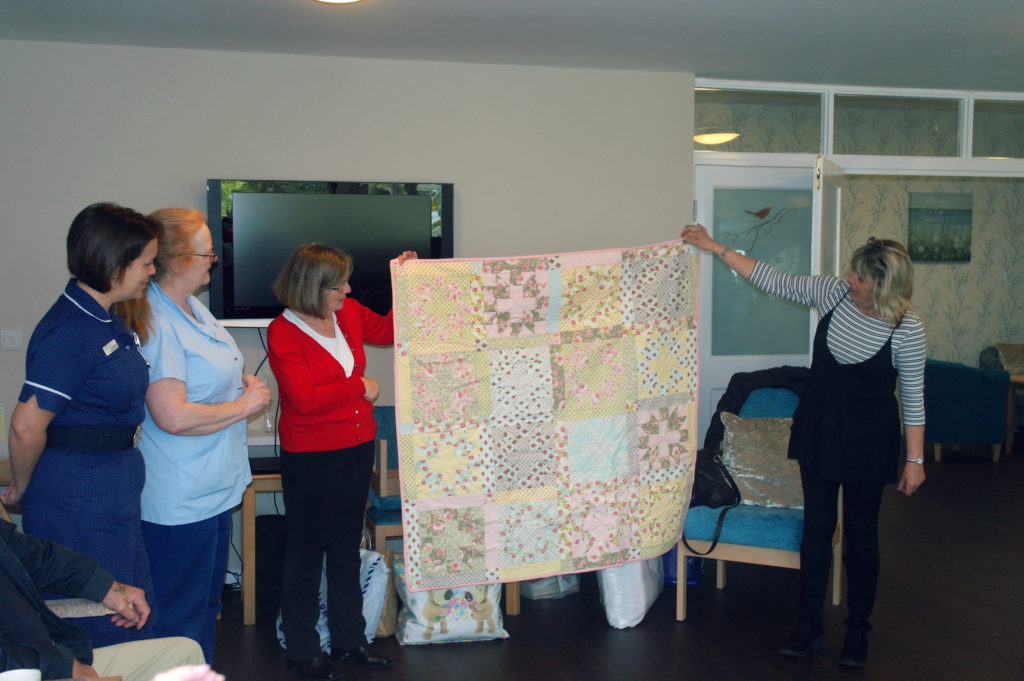 Due to her love of sewing, Maureen opened The Fabric Shop in 1983; customer requests for quilts then led to her taking up patchwork, too. It quickly became known simply as 'Maureen's Shop', and she became good friends with many of her customers. Through this, she began attending first Oyster Patchers and then Barn Owl Quilters.
During her time at Pilgrims, Maureen taught fellow patients how to make fabric tulips. Jenny Aylward, Associate Practitioner at Pilgrims Hospice Canterbury, said:
"Thanks to Maureen, other patients will now be able to make tulips as part of our creative therapy programmes. She also arranged for quilting group members to make these tulips, along with other items, to sell at a Christmas fair in our Canterbury Therapy Centre last year. In this way, Maureen has helped us to raise vital funds for Pilgrims, too."
---
If you or someone you know is coping with a life limiting illness and you think you may benefit from Pilgrims free services, talk to your GP or Healthcare Professional about your options or click here to read about our Wellbeing and Social Programme.