Richard Davis: "Cycling is one of the most accessible sports"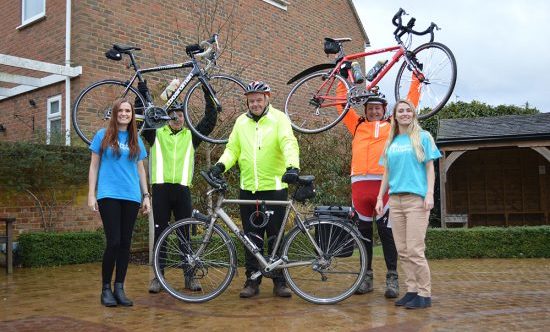 Pilgrims Hospices Chairman, Richard Davis, joined hundreds of supporters to take on the eighth Pilgrims Cycle Challenge.
Here, he shares some motivational tips for anyone who'd like to pedal for Pilgrims.
Cycling is one of the most accessible sports; it can also be one of the toughest. If you're like me, when you're cycling uphill for your last few miles you'll be glad of some inspiration!
I remind myself 'this is nothing compared with the challenge our patients face when coping with a serious illness'. It helps me keep going, knowing I'm helping provide our care.
Around three quarters of Pilgrims funding comes from the local community. Our events make a huge contribution to that.
While Cycle Challenge has evolved, the things that matter stay the same. The atmosphere is always amazing; there are free food stops and roadside assistance; and pre-training rides are also offered. Anyone can take part, from the total novice to the pro who wants to better their time.
This year's new route saw us all start from the same place in Canterbury. It provided a truly spectacular kick-off, then celebrations all afternoon as riders returned for medals and massages.
What better way to mark the start of spring than with a bit of cycling? And if you missed out on Cycle Challenge (or just fancy riding some more miles for Pilgrims), try out our fun, supportive ladies bike ride Divas on Wheels on 18 June.
Divas on Wheels takes place on 18 June 2017, starting at The Freewheel Pub in Graveney, near Faversham.
The county's only ladies bike ride for charity is open for entries now, with 25 and 50-mile routes to choose from. There are planned training rides which you can take advantage of, too.
Let's keep up the pedal power for Pilgrims. Find out more.