Snooker cues pot cash for Pilgrims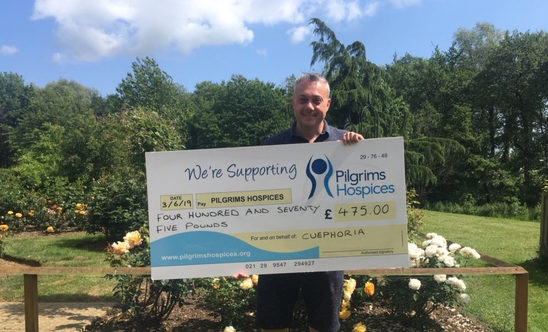 Ashford business owner Paul Wright raised £475 for Pilgrims Hospices care when he raffled two 'top of the range' snooker cues from his shop Cuephoria.
---
Paul said: "My dad Michael was cared for at Pilgrims Hospice Ashford over 4 years ago. He had complex health conditions which included cancer, MS and diabetes. He had been unwell for a number of years; then came to Pilgrims for respite care, where the team was able to spend time reviewing his extensive list of medication which in turn helped him to manage his conditions more easily.
I felt this was a good opportunity to do some fundraisng for such an important local charity.

Paul Wright
"Dad was 64 when he passed away, he was made to feel relaxed and comfortable at Pilgrims and the family remembers fondly how he spoke of taking great pleasure in a comfortable leisurely bath, something that he'd been unable to enjoy for some time, it made him very happy."
"My passion for snooker gave rise to Cuephoria in July 2018. With such good contacts with top cue makers and a really supportive bank of customers, I felt this was a good opportunity to do some fundraising for such an important charity, doing such good work within our community."
Paul sold raffle tickets to his visiting customers, the local pool league and on his Facebook site. In no time the tickets had been sold as far afield as Scotland.
"It was lovely to see some of the comments people left saying what a great prize and a great charity to support, I'm so pleased with the sum raised for Pilgrims," Paul added.
Paul met with Isabel Smith, Pilgrims Community Fundraiser, recently to hand over the cheque. She said: "We would like to thank Paul for his fundraising efforts, it has been lovely to hear his kind words about the care Michael received.
"The £475 will go towards valuable nursing hours for patients we are caring for now."
If you would like to fundraise for Pilgrims Hospices, please email fundraising@pilgrimshospices.org or find the contact details of your local fundraising office here.
---
Pilgrims Hospices cares for more than 2,300 local people each year, free of charge, during the most challenging time in their lives. They offer care and support in people's own homes, in the community and in their inpatient units as well as running a 24-hour advice line.