Green family go the distance for Pilgrims Hospices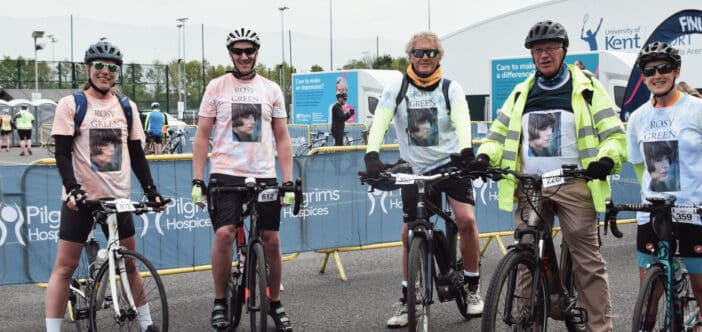 When Rosy Green from Bridge near Canterbury was diagnosed with lung cancer in October 2021, Pilgrims Hospices helped her family to make the most of their time together.
Initially cared for at the Ashford hospice, she then returned home before passing away aged 68 at the Canterbury hospice on 27 January 2022, with her family by her side.
---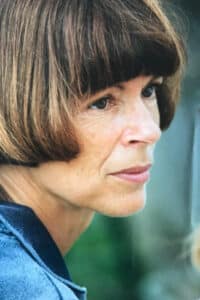 Rosy was a dedicated and long-standing volunteer within the local community, supporting several causes, including Pilgrims, over many decades.
On Sunday 1 May 2022, Rosy's family and friends – Team Rosy – took on the Pilgrims Hospices Cycle Challenge, riding 50 miles and raising more than £8,000 for local hospice care in her memory.
A much-loved wife, mother, sister, aunt, grandmother and friend
Rosy was married to her husband, Michael, for 44 years, and together they had three children: Jamie, Hannah and Georgina. She was also a much-loved sister, aunt and grandmother. Amongst family and friends and within her local community, she was known for her warm hospitality, great food and organisational skills.
Hannah said: "Mum played such a large role in our lives and we are thankful for so many things. Her friends adored her, too. These are the parts of her life that she most valued and focused all her time and energy on.
"Her dedication to her family was immense; we were always loved and supported. From wonderful school projects, creative birthday parties, summer holiday beach time, numerous clubs and sports teams, she gave us the best start to life.
"Mum had the skill to recognise and reach out to those who needed it; her lifetime of voluntary work depicts the person she was. She cared dearly about the refugee cause and gathered clothing donations, but she truly believed that charity starts on your own doorstep. If we contribute to our local community where we can, we all thrive and build a strong, caring and established community. She will be sorely missed by all."
"Mum received incredible care"
Rosy's diagnosis was sudden, and she was initially given just 24-hours to live – but with the right medication, her condition stabilised and she was referred to the Ashford hospice, before returning home where she was cared for by family with Pilgrims' support.
Georgina reflected: "Mum received incredible care during her stay at the hospice. The positive energy, enthusiasm, genuine kindness and compassion were huge factors in making her well enough to go home. Mum always (and until the end) had a great sense of humour and quick wit, and staff were happy to have a joke with her. She adored them all and was acutely gratefully for her care – she really understood the process and appreciated the kindness.
"Mum had a sweet tooth, so on occasion she would have two puddings instead of a savoury meal; what a nice thing to enjoy whilst you still have an appetite."
With a combination of physiotherapy, occupational therapy and support from the wider hospice teams, as well as her own determination to get home, Rosy became fit enough to get around with a walking frame. When she returned home, Pilgrims arranged for a suitable bed and equipment to be installed. She was able to enjoy many visitors and home comforts.
Pilgrims were such good listeners when we explained our concerns about medication, Mum's discomfort, her wishes… whatever it was, they worked with us to achieve what was best for her. Both staff and volunteers were sincere, thoughtful and caring every step of the way.

Georgina
Pilgrims continued to support Rosy and her family with home visits, and they could contact hospice teams 24/7 to access specialist advice whenever they needed it. When Rosy's condition deteriorated, the family decided that re-admission would be best, and she was transferred to the Canterbury hospice.
Georgina added: "Pilgrims were such good listeners when we explained our concerns about medication, Mum's discomfort, her wishes… whatever it was, they worked with us to achieve what was best for her. Both staff and volunteers were sincere, thoughtful and caring every step of the way."
Team Rosy's fantastic fundraising
On Sunday 1 May 2022, a group of Rosy's family and friends completed the Pilgrims Hospices Cycle Challenge, raising £8,181 for local hospice care.
Georgina said: "We didn't do any special training apart from keeping on top of our general fitness. It was definitely a challenge on the day, but the countryside was beautiful and it was amazing to ride as part of a team. The t-shirts we had printed were great, too. We really felt that we were giving back and knew Mum would be proud of us, which gave us a such a strong focus whilst fundraising.
"Crossing the finish line and receiving our medals was a huge relief. Our legs were burning cycling up St. Stephen's Hill – luckily, Dad had some battery left in his e-bike and took a lot of pleasure in finishing first within our team! I was just so happy we completed our ride without injury or mechanical malfunctions.
"Mum had always been a huge supporter of Pilgrims Hospices in her fundraising and volunteering. It's an extremely important local charity to all of our family and friends; many of us have received their support and we believe everyone should be able to access this amazing care when the time comes."
Team Rosy will be participating in Cycle Challenge 2023; you can support them via their JustGiving page.
Cycle Challenge 2023 takes place on Sunday 30 April.
Inspired to pedal for Pilgrims? Sign up now:
---
Pilgrims Hospices cares for thousands of local people each year, free of charge, during the most challenging time in their lives. They offer care and support in people's own homes, in the community and in their inpatient units as well as running a 24-hour advice line.