Team Tactics support Pilgrims Hospices It's a Knockout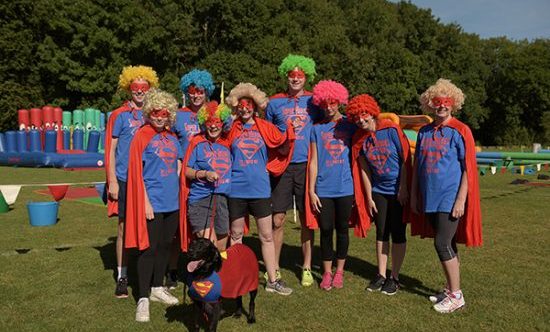 Saturday 9th July will see Team Tactics; an events management company based in Selling taking part in Pilgrims Hospices It's a Knockout to be held in Faversham.
Dressed as dalmatians they will jump through inflatable holes, find items in ball pits, jump down some very wet slides and enjoy all the mayhem that will ensue in this fun filled day.
They are only a company of 7 people who will bring in family and friends to help and even arrive with a cheer squad.
Tina Parsons, Managing Director explained why they were taking part: "In 2016 my step-mother Patricia Parsons was going through a tough time with her cancer treatment and although the NHS were great in terms of medical treatment, there was little time to give her the extra support she needed when she was struggling.
"A friend suggested getting referred to Pilgrims Hospices. From the moment she started visiting Pilgrims Hospices it was like a breath of fresh air for both her my dad too. There was someone to listen to her concerns and help her, people to talk to about her feelings and the opportunity to talk to others going through the same thing. She was able to enjoy some lovely treatments such as reflexology and find ways to help cope with other aspects of her illness.
"Late last year she took a turn for the worse and the doctors suggested she stay at the hospice for a while. I thought at that point 'this was it'. However her three week stay at the hospice saw such a change in her and she returned home feeling so much better. It turns out that a large number of patients come in to get help with their treatment and go home again.
It's a really great day out.
"It was during this time I discovered that Pilgrims Hospices have to raise £11 million per year to run its services. When I heard the Ashford hospice was running an It's a Knockout event last year, I thought it would be great to put in a team. We enjoyed our day so much that we were determined not only to take part again for the new It's a Knockout in Faversham but also to help further by signing up as headline sponsors to help with the event costs so more of the money raised can be spent on patient care."
Tina added: "It is a really great day out and as an added bonus this fantastic charity benefits from all the fundraising. We would encourage anybody to put in a team and have simply the best day out."
There is still time to enter a team. If you would like to join in the fun of It's a Knockout, please email victoria.friar@pilgrimshospices.org or call 01233 504111. Entry is £250 per team of 10 and each team is asked to raise a minimum of £500 in sponsorship.