The positive impact of Pilgrims Hospices shops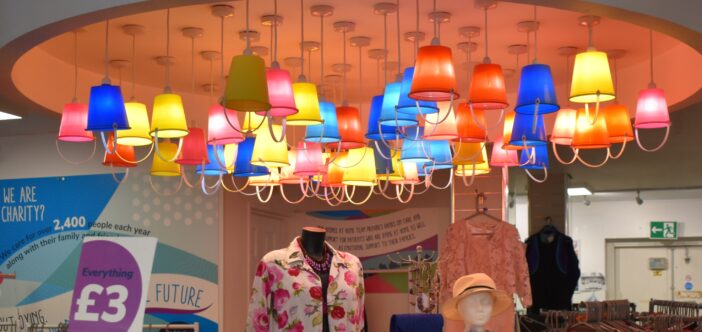 Pilgrims Hospices has 31 shops across east Kent where we sell the generous donations we receive, and our shops have many positive impacts.
---
Firstly, they help to provide the much-needed funds that support the work of the hospices across east Kent. This is, of course, our primary objective, and we are very proud that each year we are able to grow the contribution we make to the hospices. Our shops will have a turnover of over £5m in 2023, which is a huge help to the hospices.
Each year, we sell around 1.3m items through our shops, many of which would end up in landfill if it wasn't for charity shops. Of course, not everything is fit for sale, so we sell some stock to textile recyclers, who then sort it and sell it on to other countries or recycle it. Each year, we sell over 250 tonnes of 'rag textiles', which would otherwise end up in waste streams.
The shops also form part of their local communities and are a welcoming place for people to volunteer. Volunteering is cited as having a really positive impact on mental health, as it makes people feel good about what they are doing, provides company and conversation, and offers the chance to learn new skills.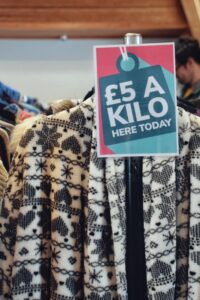 As people move away from fast fashion due to the negative environmental impact it has, sustainable fashion is becoming increasingly popular. Charity shops have always been advocates of sustainable fashion, and people are now more comfortable buying pre-loved fashion than ever before; 54% of people in the UK are happy to purchase pre-loved or vintage clothing. As the demand for sustainable fashion grows, we are going to need even more stock in our shops!
A recent survey by the organisation WRAP* found that almost half of us buy new clothing at least once per month, and around half of the new garments bought are either never worn or only worn once or twice. This is a shocking statistic, but one that is of particular interest to Pilgrims Retail. The report goes on to say that, on average, each UK adult has 118 items of clothing in their wardrobe, and that 26% of those items have not been worn for over a year, and are likely never to be worn again.
Just imagine how useful those unworn, unloved items of clothing would be to our shops! We could turn them into funds for our hospices.
How about having a declutter for Pilgrims? Our shops would welcome your donations. We especially need items of clothing, small electricals (that are working), toys, household items (ornaments, kitchen goods, dinnerware etc.) and furniture.
Find out more at: pilgrimshospices.org/shops
If you're interested in volunteering in Pilgrims shops, visit pilgrimshospices.org/volunteer.
*WRAP (Waste and Resources Action Programme) is a climate action NGO working around the globe to tackle the causes of the climate crisis and give the planet a sustainable future.
---
Each year, Pilgrims Hospices give care and comfort to thousands of people in east Kent coming to terms with an illness that sadly cannot be cured. The charity supports patients to live life as well as possible until the very end, free from pain and distress. Care is provided from three hospice sites in Ashford, Canterbury and Thanet, as well as in patients

' 

own homes. To offer these services to patients and their families the charity must raise £11 million each year from the generous local community.