The Ship Centurion sails in with 10K charity cheque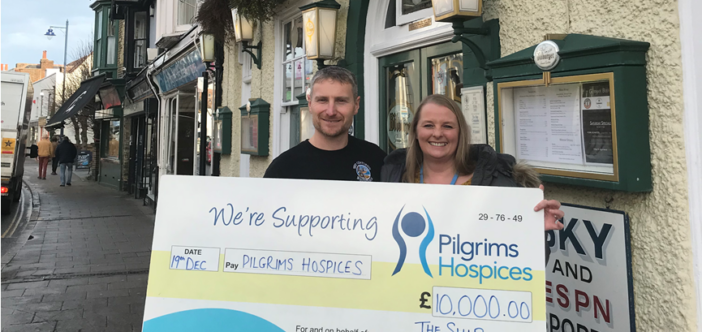 The Ship Centurion pub, on Whitstable High Street has been raising funds for Pilgrims Hospices. Landlord Roland Burks recently presented the hospice with an amazing cheque for £10,000, generously donated by his customers and staff over the past 18 months.
---
The traditional German pub has a long history stretching back to 1750; its well-established group of regular customers and staff were asked to nominate a local charity to support and, Pilgrims won by clear majority.
Visitors to the pub have been taking part in Sunday meat raffles, with a chance to win a selection of prizes from local vendor Jim's Family Butchers. They've been busy pub quizzing, guessing the lottery bonus ball, taking part in a wide variety of raffles and activities throughout the year not to mention the sales of the locally famous Armin Arse rippers! (Spicy pickled eggs and onions).
We wish to say a huge thank you to Roland, his staff and customers.

Jo Harris, Community Fundraising Officer
Landlord Roland said: "Pilgrims Hospices was clearly the favourite local charity to support. Many of my customers have been touched by Pilgrims care, they speak so highly of the care and support received by loved ones and their families.
"We are delighted to have raised such a large total, our pub has a well-established group of regulars and we are very proud to nurture a real sense of community."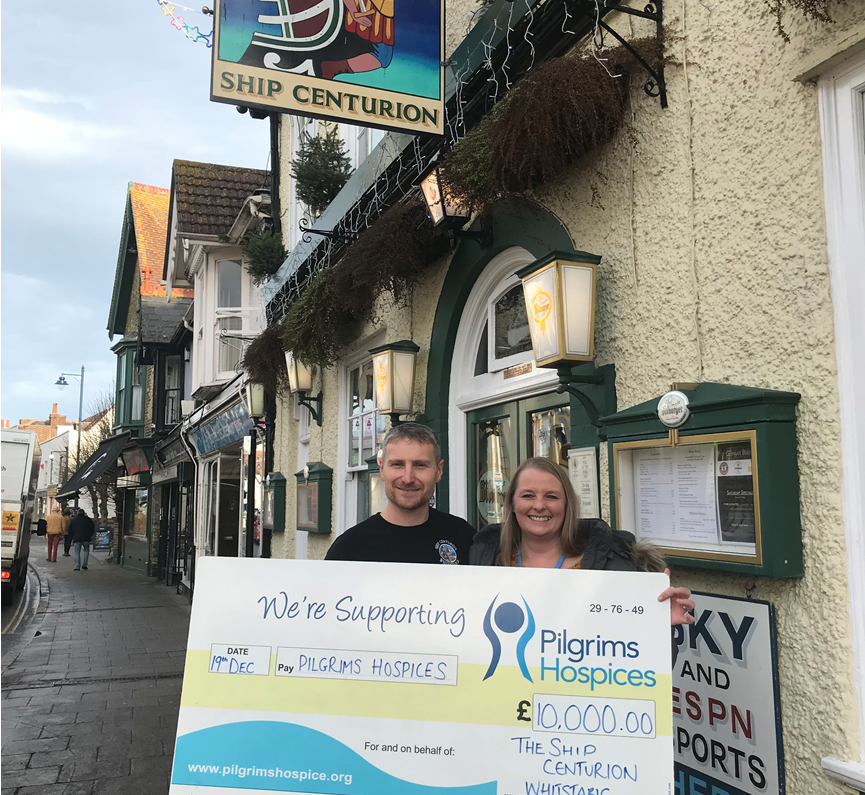 Jo Harris, Pilgrims Canterbury Community Fundraising Officer said: "We wish to say a huge thank you to Roland, his staff and customers at the Ship Centurion for choosing to support Pilgrims Hospices.
"It is lovely to see the community supporting Pilgrims so generously, this will help us continue being there for patients and their families, when and where they need us."
If you are feeling inspired by the Ship Centurion and would like to find out more information about the many ways you could support Pilgrims Hospices, please contact fundraising@pilgrimshospices.org.
---
Each year Pilgrims Hospices give care and comfort to over 2,400 people in east Kent coming to terms with an illness that sadly cannot be cured. The charity support patients to live life as well as possible until the very end, free from pain and distress.