Time to Create: Springtime flower art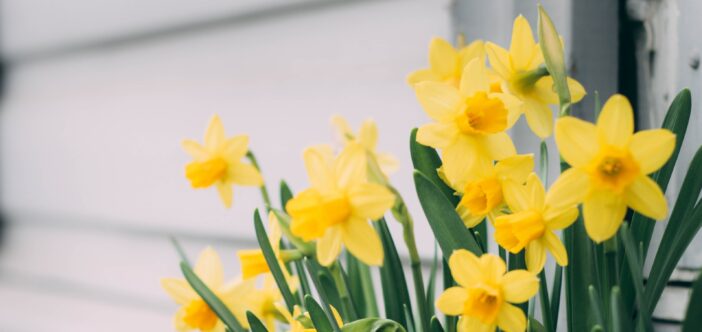 We like to include seasonal changes in our creative, art-based therapeutic groups.
As springtime approaches and the weather warms up, we focus on plants and flowers, being outside in nature, and acknowledging the beginning of a new season. This can be a very mindful and reflective experience.
---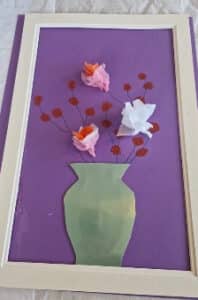 When you sit outside in early spring, whether in your garden, a park or other public space, take a moment to absorb your surroundings:
What trees can you see with new buds or the beginnings of fresh leaves?
Are there blossom trees around?
Which flowers are beginning to bud?
Daffodils, bluebells and snowdrops are all signs that spring is fast approaching; can you see any of these?
Scents are also an important factor when spending mindful time within nature; can you smell the soil if it's a damp, dewy morning? What about the smell of cut grass?
Scents can provoke memories, and taking note of different springtime smells helps you to remain focused in the moment.
It's also interesting to take note of sounds when sitting peacefully. Can you hear birds tweeting? Can you hear squirrels rustling in the trees or the gentle hum of the first few bumblebees buzzing? Taking time to sit quietly looking, listening and absorbing the natural world around you is an excellent therapeutic technique that can help keep you focused on the present and the beauty of our natural world. This kind of mindful activity can help to reduce anxiety, relieve stress and provide a positive and peaceful mindset for the day ahead.
Let's get crafty
What you'll need
Scissors
PVA glue
Assorted coloured card
A large embroidery needle
Mounting board with frame
Coloured embroidery thread
Assorted coloured tissue paper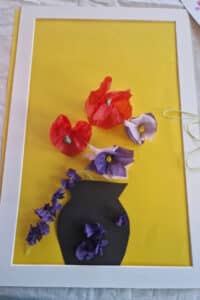 People have utilised nature as creative inspiration for hundreds of years. In our springtime session, we used coloured card and tissue paper to create beautiful 3D floral artwork.
Start by choosing your colour scheme and decide which flowers you'd like to make. You don't have to make the flowers realistic; you can be as colourful and creative as you like. Using a needle and embroidery thread, make holes in the tissue paper and poke them through your backing card. Rustle up the tissue paper to create a 3D effect. You can also use coloured embroidery thread for the stems of the flowers. Using PVA glue, stick down the design for the vase and any leaves, stems or flowers around the centre of the piece.
Keep building up your creation until you're happy with it, and then set aside to let it dry before using a mounting board to frame the final design.
---
If you'd like to know more about Pilgrims Hospices' Wellbeing services, email our team with any questions at wellbeing.enquiries@pilgrimshospices.org or call the Pilgrims Hospices Advice Line on 01233 504 133.