Towers School steps up to the challenge for Pilgrims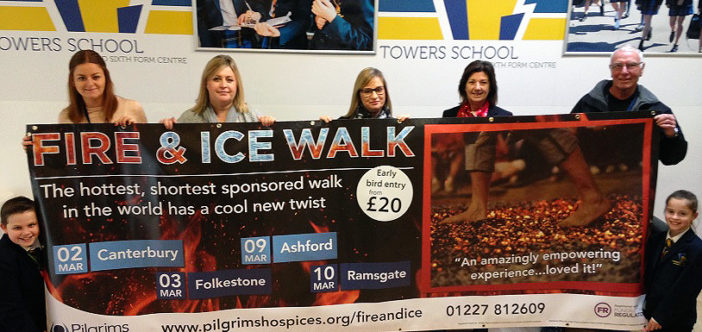 Last year Pilgrims Hospices challenged people to face the flames at their inspirational Fire Walk.  Hundreds of supporters took part raising an incredible £61,000; enough to cover more than 3,000 of nursing care. This year, the 'hottest, shortest sponsored walk in the world' is back with an extra twist!
Not only can you conquer your fears by walking barefoot over 800 degrees of red-hot wood embers, they're offering the chance to test your nerves by facing the new Icewalk.  By putting mind over matter, you could achieve what would be seen to be impossible by walking barefoot across a bed of sterile broken glass.
Robert Grew, met with staff and youngsters at Towers School, Faversham Road, Ashford who will be hosting the Fire and Ice Walk on Friday 9 March.  Robert said: "I'd like to thank Towers School for hosting Pilgrims Fire and Ice Walk, it's the first time we've held this event in Ashford, and we're already having some great response.
"The venue is just brilliant with plenty of room for family and friends to come along and support loved ones when they take the daring dash. It's a great test of inner strength and a really exciting challenge to take part in or spectate!"
I've experienced Pilgrims care first hand and can confidently say how important it is to be there for even more families in the future.
Regular Pilgrims supporter and volunteer Sue Barrett-Austen will take part this year, testing her inner strength and determination.  Sue is Welfare Manager at Towers School and looks after year 11 and sixth form students. She told us: "I'm very excited to be taking part; I've experienced Pilgrims care first hand and can confidently say how important it is to be there for even more families in the future who need their special services and support.
"I know that my registration and sponsorship money will really make a difference to those who need help the most, it's going to be my biggest challenge so far."
So why not face the flames this March?
No tricks, no special effects, just you and your nerve. Conquer the most primal of fears in aid of Pilgrims Hospices.  Robert added: "Our brave firewalkers tell us how they are still buzzing from the experience weeks later. It's something anyone can do with no previous training. More of a psychological challenge that physical, by facing the flames you'll be raising vital funds for our hospices. With every single step, you'll be making a difference to the lives of local people and their families who are in need of end-of-life care."
Friends and family can come too. With a breath-taking display from fire performer Paul Incredible just before the main event, they'll be sure to be amazed as they cheer you across the coals and see what can be achieved.
Take on a Firewalk, an Icewalk, OR BOTH. With interactive training seminars with renowned motivational speaker and fire and glass walking expert Cliff Mann before the daring dash, we know you'll feel fantastic once you've completed the challenge. After all, if you can achieve this, you can find the confidence to do anything.
Fire & Ice Walk events are taking place in:
Canterbury – Friday 2 March – Folkestone – Saturday 3 March – Ashford – Friday 9 March – Ramsgate – Saturday 10 March
You can find out more and register here or contact robert.grew@pilgrimshospices.org  01227 812609.
Each year Pilgrims supports hundreds of local people coping with a life limiting illness and their families. The charity offers a range of services: from end of life care given on its wards, to its new Wellbeing and Social Programme supporting people after they are diagnosed to live well and stay independent.