Tree Recycling 2019 raises more than £20,000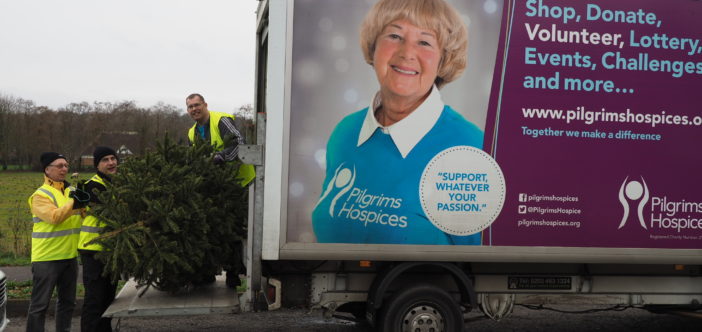 Pilgrims Hospices' Christmas Tree Recycling campaign has broken records this year with a staggering 1,250 trees being collected over Ashford and Tenterden last weekend.
---
For the seventh year running the generous residents of the Ashford Borough from Wye to Wittersham, Willesborough to Woodchurch, donated money in return for their Christmas trees to be collected and recycled by Pilgrims Hospices.
Their team of over 70 dedicated volunteers and colleagues from local businesses collected the trees on Saturday 12 January. The campaign will raise more than £20,000 for the charity who care for members of the local community facing incurable illnesses.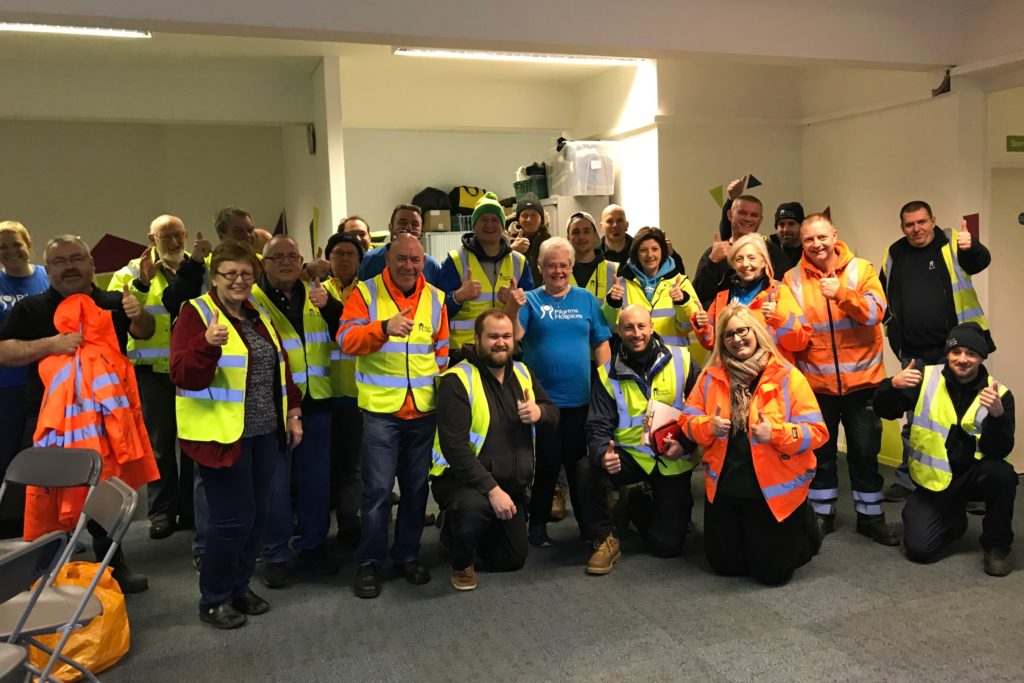 We are absolutely thrilled to have broken previous records again this year.

Kate Duddell – Pilgrims Hospices
The scheme received tremendous amounts of community support with several local businesses gifting their time and vans to help collect the trees. Local businesses lending a hand included vans and crews from Prospect Tree Mortgages, Givaudan Ltd, Medash Signs Ltd, Practical Van Hire Ashford, Waitrose, Countrystyle Recycling Ltd, Earles Landscapes and Laing O'Rourke.
A total of 22 vans were out in force around the area collecting the trees of all shapes and sizes, which were taken to Ashford Household Waste Recycling Centre in Cobbs Wood for recycling.
Kate Duddell, Pilgrims Hospices Fundraising Manager, said: "I would like to say a huge thank you to everybody who registered their tree for collection, each and every donation makes a difference to the £11 million we have to fundraise every year in order to keep our services running.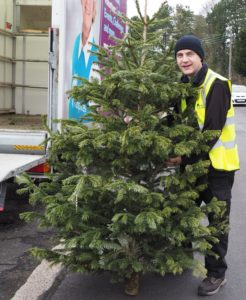 "We simply could not run the campaign without the many volunteers lending their time, vans, or facilities, including the staff at the Ashford Recycling Centre, Ashford Vineyard and Ashford Borough Council to help us with this campaign. We thank each and every one of those involved. Our headline sponsor, Prospect Tree Mortgages, has also gone above and beyond to help support the campaign, for which we are very grateful.
"We are all absolutely thrilled to have broken previous records again this year, but as the numbers continue to grow we will need even more crews to help. If you can help in 2020 or know someone who would like to get involved in the scheme, we would love to hear from you in the coming few weeks. Or, if you are a business and would like to sponsor the event, we'd also love to hear from you. Simply email fundraising@pilgrimshospices.org."
---
Each year Pilgrims supports hundreds of local people coping with a life-limiting illness and their families. The charity offers a range of services: from end of life care given on its wards to its Wellbeing and Social Programme supporting people after they are diagnosed to live well and stay independent.