Local athlete Victoria Stears inspires new and novice cyclists to get on their bikes for hospice care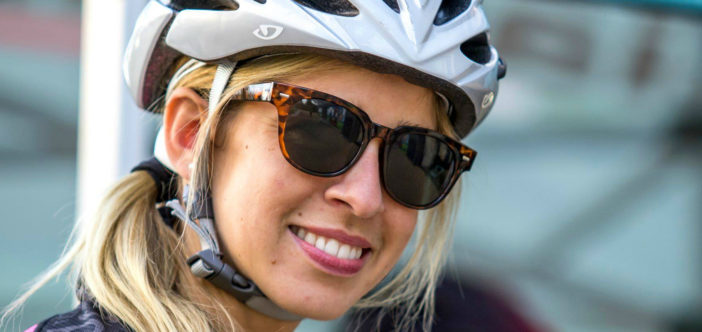 Victoria Stears from Herne Bay is a keen runner, sea-swimmer and road cyclist. As an ASICS FrontRunner, she is part of a global community that inspires people all over the world through a passion for fitness. Victoria will take part in Divas on Wheels, Kent's only women's cycle ride, for Pilgrims Hospices on Sunday 11 August.
Here, Victoria shares what she loves about cycling and why local ladies should get on their bikes and join her at Divas on Wheels this summer.
---
What are your top three tips for new or novice cyclists taking part in Divas on Wheels?
1. Eat and hydrate little and often. Sometimes, the fun (or fear!) you experience when cycling means you forget to take in fuel whilst on the bike and you only realise when it's too late. Running out of energy when cycling is called 'bonking', and if you reach that stage there's little you can do to regain energy to complete the ride. You're in control of this, so it's important to put some thought into what food works for you on the bike. I often cut a bagel with almond butter into small pieces and put it in my jersey pocket or use sachets of sweet baby food during a triathlon (it's nicer than it sounds!)
2. Use your gears. Make sure you adjust your gears when cycling uphill (low gear) and also when cycling on a flat stretch (higher gear). Your legs will thank you if you get it right, and this should be an enjoyable ride where it's all about maximising your energy availability whilst keeping a smile on your face. Don't fall into the trap of keeping in a low gear for the entirety of the ride – your legs will end up worn out from pedalling too much!
3. Don't forget to take in your surroundings and enjoy the ride. Cycling in the beautiful Kent countryside with a great group of likeminded people is a privilege and a joy – stay in the moment and appreciate the experience. We're lucky to be able to do this for fun!
What's the best thing about cycling?
The ability to turn every ride into an adventure. I actually really enjoy cycling on my own. I like to take myself off into the countryside or along the coast on a summer's evening and explore new locations, like pretty villages or an ice cream parlour I haven't visited before. Cycling is such a great way of exploring new places whilst keeping healthy and reducing your impact on the environment. It's a win-win situation.
What would you say to someone who is thinking of taking part in Divas on Wheels but isn't sure they feel confident enough to ride?
Don't overthink things; be a yes person and just sign up. It may feel daunting beforehand, especially if you're not overly confident on a bike, but trust me, there will be plenty of people who feel the same. I have never felt more supported and included than I do when I turn up to a sporting event. We want to see greater participation in sport and so we will always welcome newbies with open arms and make sure they feel safe, especially on the roads.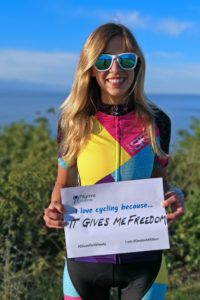 My biggest tip would be to remember that you deserve to be on the road, too. You have a right to be there, so own your space and don't cycle in the gutter. Be proud in the road and cycle two abreast if that makes you feel safer, as it is legal for two riders to cycle side by side and this actually forces cars to overtake properly. There will be plenty of experienced cyclists around who will also be there to give you moral and physical support and no cyclist will be left behind. Also, make sure you're as physically comfortable as possible – that means investing in a pair of padded shorts, because if you're focusing on the discomfort you feel when on your bike it will affect your mood and your confidence will suffer. These things are all within our control, so it's worth getting them right.
Follow Victoria on Instagram @victoriarunswild.
---
Divas on Wheels takes place on Sunday 11 August 2019.
Starting from The Independent Pedaler in Bridge near Canterbury, choose to ride either a 25-mile or 50-mile route through the countryside on quiet roads.
If you're new to cycling, have no fear! Dozens of our special Bike Heroes will join you, leading small groups and offering roadside repairs.
Early Bird entry of £22 is available until 23 June 2019.
Standard entry of £25 is available until 4 August 2019.
On the day entry will be £35.
---
If you or someone you know is coping with a life limiting illness and you think you may benefit from Pilgrims free services, talk to your GP or Healthcare Professional about your options or click here to read about our Wellbeing Programme.