Vikings 100-mile Endurance Run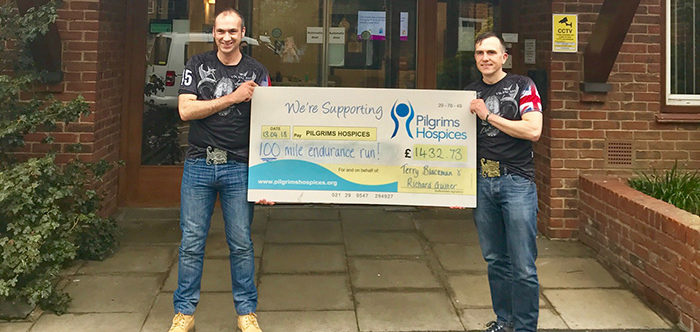 Terry Blackman and Richard Glister are not just regular runners; after Terry found himself in hospital with the fear of not being able to walk again, after a cycle accident in April 2015, he decided that he and his friend Richard were going to run a marathon.
In 2016 Terry and Richard completed their first marathon in 4hrs 26mins, from this moment on they have had the running bug. They then went on to complete the Kent Coastal Marathon in September and Richard is now 26 marathons in and is aiming to complete 100 by the time he reaches the age of 45.
Whilst looking for their next running challenge Terry and Richard came across Saxons, Vikings and Normans Marathons and Challenges website. Both men admit, they fell in love with the medals available and it all snowballed from there. Their running challenges then stepped up a notch when they learnt that for the Vikings 100-mile endurance run you received a belt buckle instead of a medal, their new challenge was decided.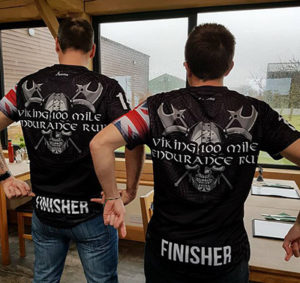 On the 10 March Terry and Richard lined up at 8am to start their 100-mile endurance run along with 100 others. All runners are given 32 hours to complete the endurance run but Terry and Richard had their minds set on finishing in 24 hours. 100 runners began the race, but only 54 finished, Terry placed at a fantastic 14thplace with a time of 22:53:21 with Richard close behind him at 24:43:00.
Community Fundraising Officer, Lydia Todd, asked what kept you going around those 100-miles through the night. Both men answered simply: "We knew we were doing it for Pilgrims Hospices so nothing was going to stop us."
We knew we were doing it for Pilgrims Hospices so nothing was going to stop us.
Terry and Richard take part in these insane challenges for their own entertainment and to complete their own personal challenges, but for this one, they thought people might think that is was such an insane challenge that they would sponsor them to run it, and they were correct. The generous friends, family and colleagues helped them raise a phenomenal £1,557 for Pilgrims Hospices which represents over 77 hours of specialist nursing care that can be provided to patients in east Kent who are living with incurable illnesses.
---
Each year Pilgrims supports hundreds of local people coping with a life limiting illness and their families. The charity offers a range of services: from end of life care given on its wards, to its new wellbeing and social programme supporting people after they are diagnosed to live well and stay independent.