Volunteering is Good for Your Wellbeing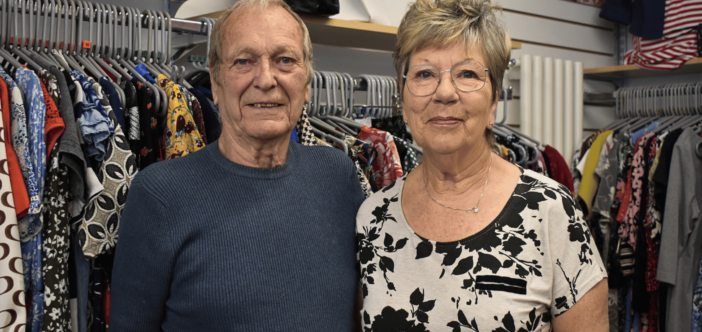 Sue and Tony Thompson from Herne have a wealth of volunteering experience with the Herne Bay Pilgrims Hospices shop.
Together they have amounted more than 40 years of valuable time and skills.  They took some time away from looking after customers on the shop floor, to tell us a little about themselves and what makes volunteering special for them.
---
Tony who is now 83 years young, and originally from North East Durham said: "I love it, I've always kept myself busy, and being part of the hospice shop team is an important part of my weekly routine.
"I've had an interesting career; after school I worked in the coal mines until I was 20, then joined the Royal Marines as a commando and spent nine years, travelling the world.  I met my lovely wife Sue, when the marines were stationed in Deal, we were together for a few months, before I went off to sea, when I came back we married.  Time at sea was sometimes for extended periods; after we had our first daughter, I was away at sea for two and half years. Thereafter, I spent 27 years in the prison service before I retired."
Sue is 77 and joined Pilgrims retail volunteer team when she retired some years ago. She said: "I had a career in retail as a manager, and decided to retire early to spend more time with my husband Tony, after he retired early from the prison service. However, I felt a bit too young to completely retire, and thought about volunteering in a charity shop. I knew the Pilgrims Hospices shop, I had often popped in for a browse. I particularly liked to find something special within the bric-a-brac section. I approached the shop in Herne Bay to offer my services, and was accepted as a volunteer, and before I knew it, I was part of the team.
"I started with a few hours, and then it became a day, and sometimes more if needed. That was about 24 years ago, I can't imagine not doing it now!
"As time went on, I was asked to take on the role of keeping the shop running smoothly, as I'd retail management experience, I was happy to do this. After some time, we needed to recruit a further volunteer to help man the till space; I asked Tony if he'd like to consider joining me as part of the team, which he did, and we've been volunteering together for around 20 years now and we've never looked back."
Volunteering is such a positive thing to do –

Tony
Tony added: "I really like the experience of being around people, and talking to regular and new customers. Customers come along to browse and have a chat, and we do our best to make everyone feel really welcome, it must work because they come back regularly!
"Volunteering is such a positive thing to do, and an important part of our lifestyle, we really enjoy our time in the shop. I've enjoyed the volunteer work at Pilgrims even more than some of the jobs I've had over the years."
Adele Mahan, Pilgrims shop manager said: "Sue and Tony are real ambassadors for Pilgrims Hospices, and are totally dedicated to the Herne Bay store. As a new manager, they were and continue to be a great support to myself, and after volunteering for so long there isn't much they don't know about the shop.
Congratulations to them both on the amazing achievement of over 40 years of volunteering."
Sue and Tony volunteer at the hospice shop two days each week, and always do their shifts together. The popular couple often have regular shoppers popping in to say hello and catch up, the shop is full of laughter, customers sharing stories and shopping tips. "Quite often people that we don't know join in with the conversations, which is lovely, we both agree that we've made many friends over the years with Pilgrims shoppers." Sue added.
Alongside serving customers at the till, Tony has the important job of PAT tests electrical equipment donations, in order ensure items are safe for sale.
Sue told us: "It's like Christmas day every day, at the Pilgrims shop, just like having a Christmas stocking every day. People are so generous with their donations, we never know what we're going to unpack next. Often you can hear the team say 'how would you wear this' or we may hear a gasp of excitement as someone opens a donated box of bric-a-brac treats.
I've encouraged my friends to join us as volunteers too –
Sue
"We laugh lots, make new friends with other volunteers and customers, and feel very fortunate to be doing something so worthwhile for the charity. We can honestly say we love it, and have so much fun, we wouldn't be here if we didn't.
"I've encouraged my friends to join us as volunteers too."
If you have some time and feel you have skills to offer, why not trying volunteering?  Sue and Tony are perfect examples of how to meet new people get involved in interesting conversations and make new friends while doing something really positive.
You don't have to give up too much time, just a much or little as suits you.
Volunteers truly make a difference to the lives of people across east Kent who are living with incurable illness.
People are inspired and motivated to support us for lots of reasons. Many of our volunteers have personal experience of the palliative care and support we offer to patients and their families; some have a special interest or skill that makes a valuable contribution to Pilgrims. Volunteering can also help you to gain new skills in an area you've always wanted to develop.
As a Pilgrims volunteer, you'll feel valued, gain new skills, and build confidence. We have a variety of roles available and are always looking for additional talented and motivated people to join our volunteer team.
We would love to hear from you! https://www.pilgrimshospices.org/get-involved/volunteer/
Volunteers' Week takes place 1 – 7 June every year. It's a chance to celebrate and say thank you for the contribution millions of volunteers make across the UK.  https://volunteersweek.org/

---
Pilgrims Hospices care for thousands of people each year, free of charge, during the most challenging time in their lives. They offer care and support in people's own homes, in the community and in their inpatient units as well as running a 24-hour advice line.