Vote for Pilgrims Hospices to be Sainsbury's Local Charity of the Year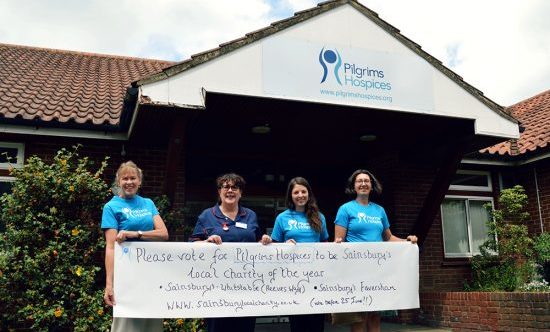 We've had some very exciting news here at our Canterbury Hospice. We have been shortlisted by two of our local Sainsbury's stores to be their Local Charity of the Year partner for 2017 / 18!
Both main Sainsbury's stores in Faversham and Whitstable have shortlisted us:
Sainsbury's, Bysing Wood Road, Faversham ME13 7UD
Sainsbury's, Reeves Way, Chestfield, Whitstable CT5 3QS
Voting is now open! Anyone can vote for us by clicking here:
Type the store you want to vote for us at ('Faversham' or 'Whitstable') into the search bar
Select your chosen store
Click 'Vote' under the store name and then click 'Submit'.
Please vote for us for Faversham, Bysing Wood Road and Whitstable, Reeves Way. You can vote for Pilgrims for both stores – so please do!
The charity with the most votes by the closing date of 25 June 2017 will become the store's Local Charity of the Year.
This partnership would give us great opportunities including fundraising in-store, raising awareness in the local community, the chance to recruit new volunteers and raise the profile of Pilgrims, and opportunities to publicise all that's happening at Pilgrims.
It takes just two minutes to vote, so please vote for us now and ask all of your friends and family to do the same. We're keeping our fingers crossed for a great result for Pilgrims!
Please visit www.sainsburyslocalcharity.co.uk and vote by 25 June 2017.