Each year Pilgrims Hospices has to raise £11 million through voluntary donations in order to run our full range of services. Every mile you walk and every penny you raise makes a huge difference to the lives of local people living with a life limiting illness.
Your fantastic support is what enables us to be there for the next family who needs us. So, here's a few hints and tips for making the most of your fundraising.
Take your fundraising online
We'd always encourage our supporters to open a JustGiving page to enable and increase their fundraising. Not only is it a great way to reach those friends, family and colleagues that you don't see on a regular basis, it's quick and secure and cuts out the hassle of handling lots of cheques and cash as the money is forwarded directly to Pilgrims on a regular basis. We've put together a guide for how to set up your JustGiving page and our top tips for fundraising with JustGiving.
Set yourself a target
Setting yourself a target can help bring a focus to your fundraising, for you and your supporters. You may choose to set your sights on raising enough to pay for 10 hours of nursing care for example. Whatever you decide, you'll be surprised how many of your friends and family will rally behind you.
Breakdown your target
A fundraising target can be daunting; we recommend that you break your target down into manageable chunks and build your fundraising up to reach your total target. Think about easy ways for people to give small amounts that will add up, whether that's a bake sale, a sweepstake or a collection tin in your local pub or your offices.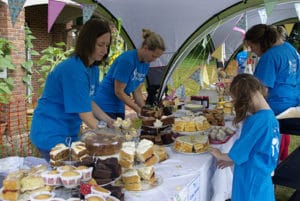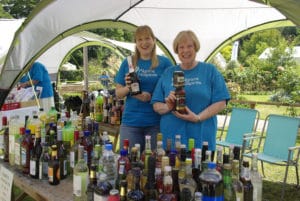 Big Ideas!
Fundraising is a lot of fun, and we want you to have as much fun as possible! There are lots of ways for you to raise big money through big ideas. You could host a quiz night, a race night, host a dinner party or organise a raffle.
Fundraising at work
Take into consideration what your colleagues enjoy and think of fundraising ideas that suit your office. Here in the Pilgrims offices, we love cake! Lots of employers offer match funding for employee's fundraising, this could be a one-off donation or they could match all of your fundraising.
The more traditional approach
Online donations aren't for everyone, and sometimes, being able to have the form in front of them is the very thing that reminds your friends and family that they haven't sponsored you yet. Don't forget to fill out all of the details on your form to let people know what you're doing. You can download a paper sponsorship form from our website.
Share, share and share again!
How are people going to know you're fundraising for Pilgrims Hospices if you don't tell them? Social media is a great tool for spreading the word about your fundraising, it enables you to share your story and your JustGiving page! You could also ask your friends to share your page to help you reach an even wider audience. You're doing a wonderful thing by raising funds to support the care of thousands of local people; be proud, be enthusiastic - it's contagious. You may even get a mention in your local paper!
Create a buzz around your fundraising
It's not every day that you fundraise for local hospice care! Whatever it is that you're doing for Pilgrims, people will want to hear all of the details. Let them know about your training, the workings of the event, what you're excited about and what challenges you'll approach. Hearing about your fundraising will inspire, and remind, people to support you. Be sure to tell people how it went and remind them that they can still give. Around 20% of donations are given after an event, it's worth one more ask!
Look beyond family and friends
Pilgrims Hospices have touched the lives of 1 in 4 people in east Kent. Be sure to spread the word around your local community that you're fundraising for Pilgrims, it may be the thing they've been waiting for to donate.
Be creative!
Don't be afraid to get creative with your fundraising tactics! When it comes to fundraising, it's always great to stand out from the crowd. Perhaps you have a special talent that you could show off to raise funds, or maybe you have a unique skill or hobby that you could incorporate into a fundraiser.
Gift Aid
Did you know that you can increase the amount of a sponsor's donation by 25% at no extra cost to them? Any UK tax payer can tick the Gift Aid box for the extra contribution to be added from the government. This means that £10 could turn into £12.50 and £50 could turn into £62.50. It's easy to see how much of a difference that can make for our patient's care, so encourage your supporters to do so if they're eligible. It's a no brainer!
Share information
Alongside sharing your personal reasons for fundraising, it's always great to share the facts about Pilgrims to raise awareness of local hospice care to your community. We've put together a paragraph for you to share about the work of Pilgrims Hospices in the east Kent community:
Pilgrims Hospices provide specialist care to patients and their families across east Kent. Their vision is of a community where people with life-limiting illness are supported and empowered, together with their family and friends, to live well in mind and body, and make the most of the time they have.

Pilgrims have proudly provided skilled and compassionate care, completely free of charge, to the community of east Kent for over thirty years.

Approximately 30% of people who die in east Kent are cared for by Pilgrims. They are now caring for more than 2,500 people each year - a figure that is set to climb in the years ahead as people live longer and with more complex conditions. This care is given in their three inpatient units in Canterbury, Thanet and Ashford, in their therapy centre's or in patients' own homes. Pilgrims also provide a 24/7 telephone support service to patients and carers and offer bereavement support.
Make it tangible
The people who are sponsoring you might like to know what we'll do with the money you raise. You can share these figures to let them know what your hard work is helping us to provide:
£12 could pay for a patient's meals for the day
£25 could pay for an hour of nursing care
£35 could pay for complementary therapies to soothe a patient's anxieties
£100 could pay for a therapy session to help a child coping with the loss of a loved one
Say thank you!

Saying thank you is one of the most important parts of your fundraising! Be sure to say thank you to each of your generous supporters, whether it's a phone call, a shout out on social media, a letter or a simple text. If you're using JustGiving, ask your supporters to share their name when they make their gift, and explain that it will ensure you can thank them appropriately. A thank you goes a long way!
Best of luck with your fundraising, and for helping us to be there for the next family who need us. 
---
Download our online fundraising pack for more tips and ideas about how to make the most out of your fundraising.