Brighton Marathon 2024
Sunday 7 April 2024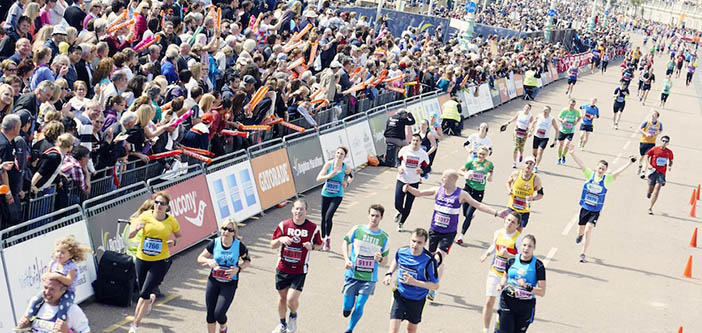 Run the Brighton Marathon in aid of Pilgrims on Sunday 7 April 2024
Fancy a marathon with a side of sea air instead of the usual city heat? Join #TeamPilgrims and experience the unforgettable atmosphere of running 26.2 miles through the buzzing city streets of Brighton & Hove alongside thousands of fellow runners, as friends, family, and the local community line the pavements to cheer you on.
With every mile, you'll be raising vital funds to help Pilgrims Hospices continue to provide skilled and compassionate care to those facing an incurable illness across east Kent.
Apply to run in 2024
Right now, you can apply for one of Pilgrims Hospices' 5 guaranteed charity places in the Brighton Marathon 2024. These places are offered on a first-come, first-served basis for a registration fee of £20 and a pledge to raise at least £500 sponsorship.
Click here to apply for Brighton Marathon 2024
---
Already have a place in Brighton Marathon?
If you have secured your own place for Brighton Marathon 2024 and would like to fundraise for Pilgrims Hospices, we would love to hear from you!
Simply get in touch with the fundraising team by calling 01227 812609 or by email at fundraising@pilgrimshospices.org.
By choosing to run in support of Pilgrims Hospices, you will be helping us to be there for thousands of people who are living with an incurable illness in east Kent. Every £25 raised enables Pilgrims to provide another hour of specialist end-of-life care, bringing comfort, alleviating pain, and enabling life to be lived well.
---
Show your support with the official Pilgrims Hospices running vest and technical t-shirt

Show your support for Pilgrims Hospices with every step you take with our branded running vest and/or technical t-shirt made of lightweight, breathable, sweat-wicking material that makes them comfortable to wear whilst running.
Running vest: £10 (S, M, L, XL or XXL)
Technical t-shirt: £7 (S, M, L, XL, XXL or XXXL)
(Please note: Runners with a Pilgrims Hospices charity place in Brighton Marathon will receive a branded running vest)
---
Resources
Location
Brighton
Address information
Venue:
Preston Park
Preston Road
City: Brighton
Postcode: BN1 6SD
Contact information
Email: robert.grew@pilgrimshospices.org
Contact name: Robert Grew