Firewalk
Friday 1 March 2019 - Saturday 2 March 2019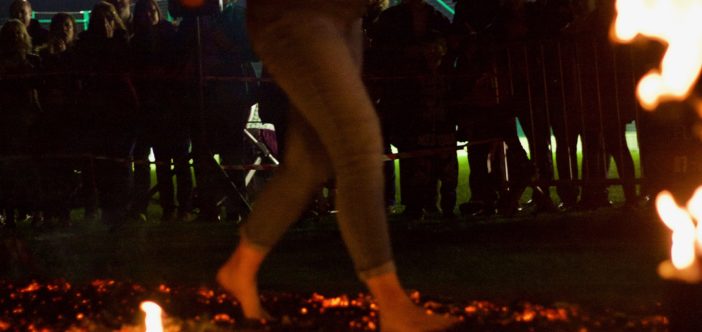 Face the flames and achieve the impossible.
Entries open 2pm Friday 16th November 2018 at the early bird rate of £17 per person, available for the first 50 signups per event location. Register early to avoid disappointment.
It's time to turn up the heat for the Pilgrims Hospices Firewalk; back for its 4th year! Dubbed 'the hottest, shortest sponsored walk in the world', the Pilgrims firewalk is a barefoot walk over red-hot wood embers measuring up to 800 degrees! No tricks, no special effects. Just you and the fire. It's the ultimate test of courage and the perfect challenge for any fitness level.
"A totally fantastic night out, it was laughter from moment I stepped in the door to the moment I left it, just brilliant"
No Previous training required. You'll be treated to a lighthearted, interactive training seminar with our firewalking expert, Cliff Mann, on the night leaving you feeling all fired up and ready to face the flames. Cliff has guided 1,000s of people across the fire, over a 30 year career, so you can rest assured you're in safe hands.
A firewalk is a truly life-affirming experience. Not only will you conquer the most primal of fears, you'll raise vital funds to support hospice care too. And after all, if you can walk on fire, you can find the confidence to do anything!
Spaces for this bucket list experience are limited to just 100 per event, so early registration is recommended to avoid disappointment.
Entry
Entry includes training seminar, firewalking experience and certificate.
Early bird entry: £17 with a pledge to raise £100 sponsorship (available to the first 50 registrations per event location or until 20/01/19, whichever is sooner)
Standard entry: £20 with a pledge to raise £100 sponsorship (closes 24/02/19 or sooner if capacity is reached)
Only those aged 16 and over can participate in this event.
Event information
Firewalks are taking place in Canterbury and Ashford at the following locations:
Event timings:
Sign in from 6pm
Training seminar begins 6.30pm
Firewalk 8pm
Spectators:
We recommend that friends and family coming to spectate should arrive around 7.45pm when things start hotting up as they won't be allowed inside the seminar hall during the training. Hot food and drinks will be available for purchase and please remember that the British weather can be very changeable so please wear suitable clothing for the evening.
We're pleased to welcome back Paul Incredible who'll be performing a live fireshow to 'warm up the crowd' between 7:45-8pm before the walk itself. It's not to be missed!
---
Resources
---
Address information
Venue:
The Pavilion
University of Kent
City: Canterbury
County: Kent
Postcode: CT2 7SR
Contact information
Email: robert.grew@pilgrimshospices.org
Contact name: Robert Grew