Great Wall of China trek
Saturday 8 September 2018 - Tuesday 16 October 2018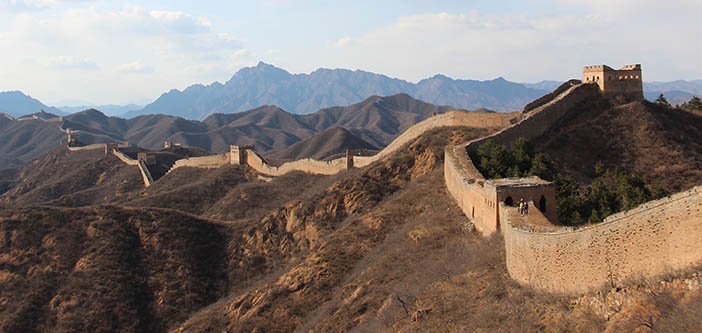 Discover the secrets of an ancient empire 8-16 October 2018.
---
What's on offer?
This journey of discovery takes you right into the heart of the ancient Ming Dynasty. Uncover the secrets of a long-lost kingdom in this once-in-a-lifetime experience held exclusively for Pilgrims supporters.
Enjoy panoramic views across vast and beautiful mountain ranges and let your imagination transport you back several centuries to when the wall was the frontline defence of Imperial China. The nine day expedition features five days trekking along remote stretches of this magnificent wonder, as well as tours of Beijing's many attractions including the Temple of Heaven, the Forbidden City, Tiananmen Square and more. You can even extend your trip and visit giant pandas and China's famous Terracotta Warriors.
Find out more about this amazing challenge
What's included?
Return flights from London to Beijing
Overland transfers
All accommodation
All meals during the itinerary and drinking water whilst trekking
Support team of guides and drivers
Provision of first aid supplies and back-up facilities
Airport departure tax
Charity Challenge t-shirt
Discount at Nomad Travel Stores for personal equipment.
Your itinerary
Day 1, International departure: We meet you at the airport for your flight to Beijing, China. You'll pass over the Great Wall before landing.
Day 2, Beijing to Badaling area: Arrive in Beijing to be met by our Charity Challenge local guides and transferred to the hotel. Following an afternoon spent relaxing, you'll enjoy dinner and a challenge briefing to prepare you for the coming days.
Day 3, Badaling Great Wall (approx. 8km trek): We say "Ni hao" to the Great Wall with a short but very demanding day of trekking.
Day 4 – Huanghuacheng (approx. 12km trek): We begin a wonderful day of trekking from Xishuiyu Village along the Yellow Flower City section of the Great Wall; a beautiful and exciting part of the Wall is completely unrenovated and very remote.
Day 5, Gubeikou Gateway (approx. 14km trek): The Gubeikou section of the Wall offers a huge variety of terrain as we trek between two passes in the mountains of north east China and a mixture of old and renovated Wall.
Day 6, Jinshanling Loop (approx. 12km trek): This spectacular walk from Jinshanling towards Simatai is a stark contrast to the previous day. Its many steps lead us to an incredible vista of the mountains and the Wall snaking off into the distance.
Day 7, Mutianyu Section (approx. 14km trek): Our final day of trekking begins with a steep climb up to the first watchtower, before several kilometres of very old and uneven wall. We move towards the famous Heavenly Stairway and then descend down thousands of steps to the Wall entrance, and the end of your challenge. Celebrate the night away back in Beijing with entertainment arranged by your guide.
Day 8, Full day city tour of Beijing: Today you have a full day to explore Beijing, with a fully guided tour of the many attractions of China's capital city including the Temple of Heaven, the Forbidden City, Tiananmen Square, as well as (time-dependant) visits to a silk museum and tea house to see some of the local crafts and culture of the city.
Day 9, The journey home: After breakfast you'll be transferred to Beijing airport for your same day return to London Heathrow.
Optional extras
Xian extension (Terracotta Warriors)
Overnight train from Beijing to Xian
View the 6,000 life-size terracotta soldiers, warriors and horse at the Terracotta Museum
Visit the Grand Mosque in Xian
Spend an evening watching a Tang Dynasty cultural show
Visit the Yangling Tomb of Han Dynasty that dates back 2,000 years.
Terracotta Warriors and pandas extension
Xian extension (see above) plus:
Fly to Chengdu to visit the Giant Panda Research Base before flying back to Beijing.
What do I need to do?
Are you ready to take a path less travelled for Pilgrims?
You'll need a deposit of just £395 to take on this this once-in-a-lifetime adventure. How you fund the rest is up to you!
Option A Deposit £395 + minimum sponsorship £3,095
Option B Deposit £395 + self-funding £1,517 (no minimum sponsorship).
Resources
Contact information
Contact name: Robert Grew
Phone: 01227 812 609