Vitality London Big Half 2022
Sunday 4 September 2022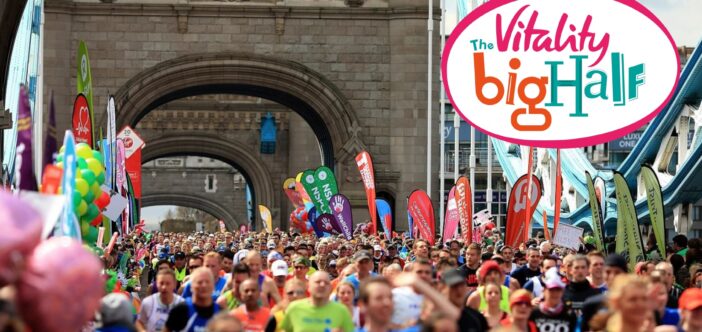 Run the London Big Half for Pilgrims on Sunday 4 September 2022.
The Vitality Big Half is the perfect half marathon for runners of all abilities. Starting by the impressive Tower Bridge, the 13.1 mile closed-road run echoes the famous London Marathon route. You'll visit the boroughs of Southwark, Tower Hamlets, Lewisham and Greenwich before finishing at the historic Cutty Sark.
The Big Half is much more than a half marathon. It's a community running festival and everyone is invited!
The atmosphere was fantastic and I absolutely loved every single minute of it! There was plenty of live music along the way to keep a spring in our steps, and running through the streets of London and across Tower Bridge is an amazing experience!! 

Kathleen, Big Half runner 
Run for Pilgrims Hospices!
You can sign up now for the London Big Half as a Pilgrims Hospice runner for free with a pledge to raise at least £350 in sponsorship.
By raising £350, you will be enabling Pilgrims to provide 14 hours of specialist nursing care to a patient receiving end-of-life care in one of our inpatient units in Ashford, Canterbury or Thanet; thank you!
Secured your place?
If you have received your own place for London Big Half 2022 and would like to run in aid of Pilgrims Hospices we would love to hear from you! Get in touch today with Lydia Todd so that we can support you with your training and fundraising.
Show your support with the official Pilgrims Hospices running vest and technical t-shirt

Show your support for Pilgrims Hospices with every step you take with our branded running vest and/or technical t-shirt made of lightweight, breathable, sweat-wicking material that makes them comfortable to wear whilst running.
Running vest: £10 (S, M, L, XL or XXL)
Technical t-shirt: £7 (S, M, L, XL, XXL or XXXL)
Resources